Fresno, California – Jan. 27, 2017 – – Robert F. Kennedy, Jr., Michael Baum of the law firm Baum Hedlund Aristei & Goldman and a number of their clients spoke at a press conference outside of the B.F. Sisk Courthouse in Fresno on Friday to support the State of California in its fight against Monsanto.
The agrochemical giant filed a lawsuit last year against the California Environmental Protection Agency's Office of Environmental Health Hazard Assessment (OEHHA) in response to the state issuing a notice of intent to list glyphosate as a Proposition 65 chemical known to cause cancer.
Glyphosate, the active ingredient in Monsanto's Roundup herbicide, is a "probable human carcinogen," according to a 2015 report issued by the International Agency for Research on Cancer (IARC). The report prompted California to list glyphosate as a chemical "known to the state to cause cancer" in accordance with Proposition 65.
On Friday morning, Monsanto and OEHHA were given an opportunity to present their arguments at a hearing before Fresno County Superior Court Judge Kristi Kapetan, who issued a tentative ruling in favor of the State of California.
The ruling thwarts Monsanto's effort to stop California from listing glyphosate as a Prop 65 chemical. If the result holds, California would become the first state to require Monsanto to label Roundup as a possible carcinogen. Judge Kapetan is expected to issue a formal decision on the case soon.
After the hearing concluded, Michael Baum, managing shareholder of Baum Hedlund kicked off the press conference by discussing the implications of Monsanto v. OEHHA, as well as other ongoing litigation involving farmers, gardeners, agricultural workers and other individuals that have filed suit against Monsanto over the link between Roundup and non-Hodgkin lymphoma.
Baum Hedlund is working with Robert F. Kennedy, Jr. in representing over 170 victims who allege that exposure to Roundup caused them or their loved ones to develop non-Hodgkin lymphoma.
"This listing is not going to put Monsanto out of business. It's just going to warn people before they use their product that this product might cause cancer, and you better limit your use to protect yourself and to protect your families," Kennedy said at the press conference. It's called a precautionary principal. Who wouldn't want to know that?"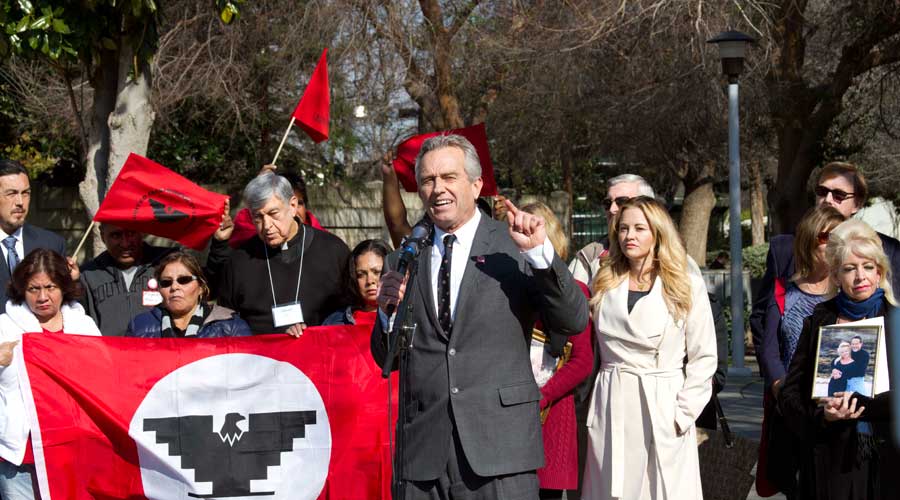 Kennedy continued: "Why does this company not want these farmworkers to know that this chemical may endanger them and may endanger their families? Why did [Monsanto] hire these great lawyers to come here to shut California up and to stop California from protecting these people?"
Kennedy spoke after Arturo S. Rodriguez, president of the United Farm Workers, who has been advocating for farmworker protection from dangerous pesticides for decades. "We call on the State of California to continue its fight to ensure that Roundup is labeled in the way that it should be," Rodriguez said.
"Corporations like Monsanto don't get to make decisions for the State of California and its citizens when it comes to regulating public health," said Michael Baum, who went on to introduce a number of Baum Hedlund's and Mr. Kennedy's clients.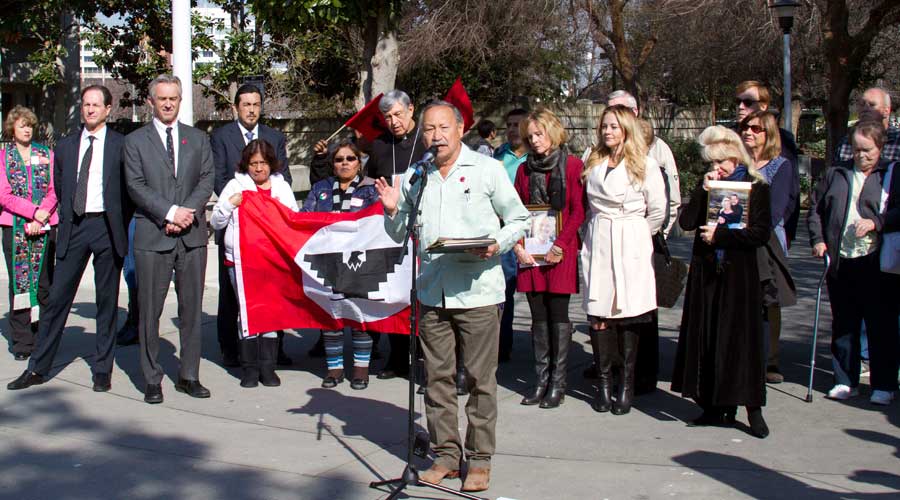 The first client to speak was John Barton, a third-generation farmer from Bakersfield, California who used Roundup for many years, believing it was safe. Barton now suffers from stage 3 low-grade lymphoma.
"I have spent more than 50 years as a farmer because I love the soil and growing food for California consumers," Barton said. "I never thought the price I'd pay would be blood cancer. I wish somebody had warned me."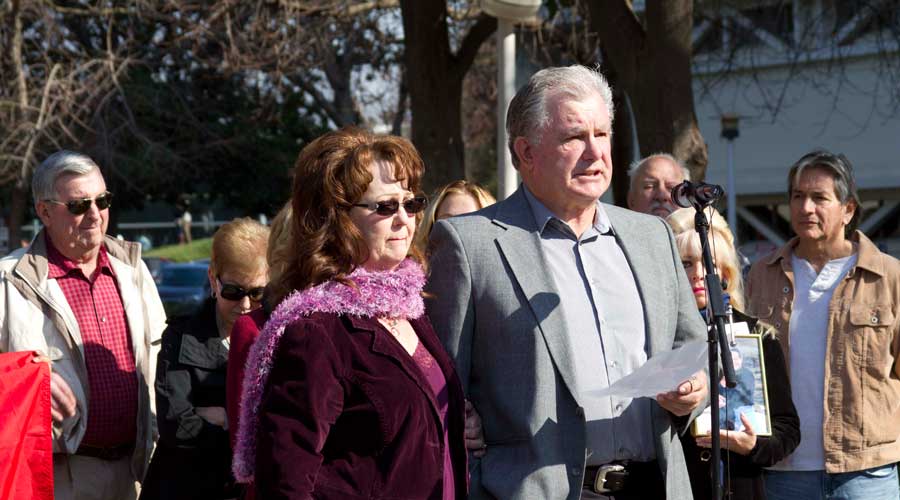 Teri McCall spoke after Mr. Barton. McCall's husband, Jack, used Roundup for decades on the family's 20-acre fruit farm in Cambria, California. Jack McCall died in 2015 after a battle with non-Hodgkin lymphoma.
"My husband Jack was very conscious of the dangers of chemicals and his misfortune was taking Monsanto's word that Roundup was safe," said McCall, who insisted that a warning label likely would have saved her husband's life.
"I don't want to see any more unsuspecting people die from cancer because they didn't know of the danger to their health from exposure to Roundup. Glyphosate in Roundup needs to be on the list of Prop 65 chemicals that are dangerous to our health so people can make informed decisions for themselves about the risks they are willing to take."
"I don't believe my husband would have been willing to take that risk," Teri McCall added.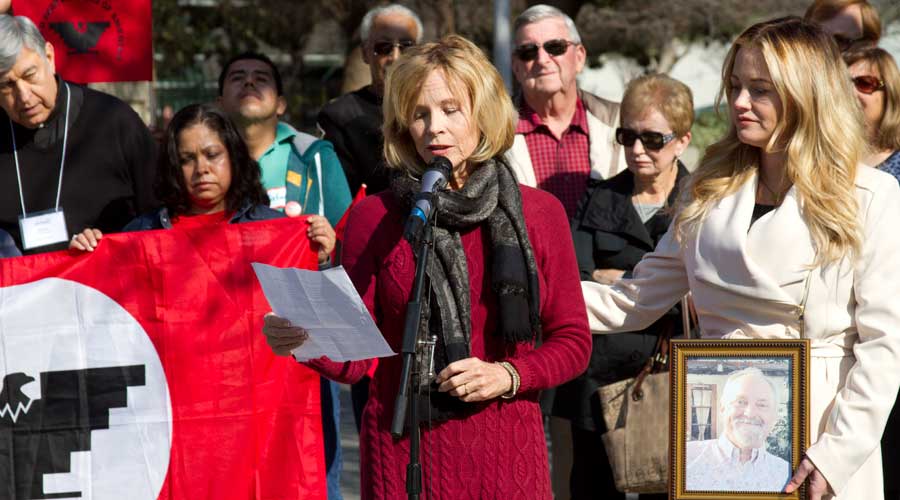 Another client to speak was Deborah Brooks, whose husband Dean used Roundup around their Harmony, California home. Dean passed away in 2016 only a few months after being diagnosed with stage 4 B-cell non-Hodgkin lymphoma.
"My husband, Dean, was an athlete, a seventh-degree black belt, a noted actor and theatre director schooled in Shakespeare and ancient mythology, Brooks said.
"He was a wise man. If he knew that a weed killer could have killed him and left his wife struggling to survive after providing for the two of them, he would have lived with the weeds."