Robert F. Kennedy, Jr. | Wisner Baum Co-Counsel
Robert F. Kennedy, Jr. is co-counsel with Wisner Baum in the Gardasil litigation. Kennedy started working with the firm after the mass toxic tort case against SoCalGas stemming from the gas well blowout in Porter Ranch, California. Since then, he has been an integral part of Wisner Baum's Monsanto Roundup cancer litigation team and the California wildfire litigation team.
Named one of Time magazine's "Heroes for the Planet" for his success helping Riverkeeper lead the fight to restore the Hudson River, RFK, Jr.'s reputation as a resolute defender of the environment stems from his proven track record of successful legal actions.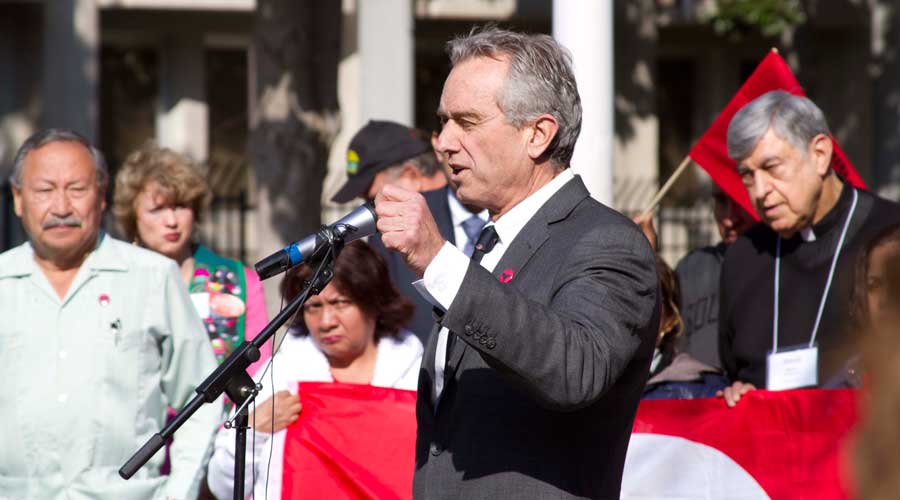 Bobby is Founder and President of Waterkeeper Alliance and Founder of Children's Health Defense. Until 2017, he served as Senior Attorney for the Natural Resource Defense Council and Member and Chief Prosecuting Attorney for the Hudson Riverkeeper. He was also a Clinical Professor and Supervising Attorney at Pace University School of Law's Environmental Litigation Clinic. He is currently professor emeritus at Pace. Earlier in his career, he served as Assistant District Attorney in New York City.
He has worked on environmental issues across the Americas and has assisted several indigenous tribes in Latin America and Canada, successfully negotiating treaties protecting traditional homelands. Bobby is also credited with leading the fight to protect New York City's water supply. The New York City watershed agreement, which he negotiated on behalf of environmentalists and New York City watershed consumers, is regarded as an international model in stakeholder consensus negotiations and sustainable development.
In addition to his environmental activism, Kennedy has also worked on several noted political campaigns, including Edward M. Kennedy's campaign for president in 1980, Al Gore's presidential bid in 2000 and John Kerry's in 2004.
A noted author, Mr. Kennedy's published political books include the New York Times' bestseller Crimes Against Nature (2004), The Riverkeepers (1997), and Judge Frank M. Johnson, Jr: A Biography (1977). He has also published three children's books, including Robert Smalls: The Boat Thief (2008), American Heroes: Joshua Chamberlain and the American Civil War (2007) and St. Francis of Assisi (2005). In 2018 he published, American Values: Lessons I Learned from My Family.
Mr. Kennedy has also contributed articles that have appeared in The New York Times, The Washington Post, The Los Angeles Times, The Wall Street Journal, Newsweek, Rolling Stone, Atlantic Monthly, Esquire, The Nation, EcoWatch, Outside Magazine and The Village Voice, among many others.
Mr. Kennedy is a graduate of Harvard University. He also studied at the London School of Economics and received his law degree from the University of Virginia Law School. After graduating from law school, he attended Pace University Law School, where he was awarded a Masters in Environmental Law.
Gardasil HPV Vaccine Litigation
Mr. Kennedy has been fighting for safer vaccines for years. A staunch consumer advocate that has never shied away from fights with corporations that put profit over people, Mr. Kennedy is working alongside our firm to represent victims who experienced vaccine-related injuries after receiving Gardasil.
The Vaccine Adverse Event Reporting System (VAERS) has received more than 64,000 case reports of adverse events from people who received the Gardasil HPV vaccine. No other vaccine on the market has produced more reported injuries. The Vaccine Injury Compensation Program has paid out millions of dollars in damages for Gardasil-induced injuries and deaths.
"Before there was Gardasil, there was Vioxx," said Mr. Kennedy after filing a Gardasil lawsuit with Wisner Baum in 2020. "Merck paid billions to settle civil allegations that it purposely hid Vioxx's cardiovascular risks. The company also paid $950 million in fines as a result of their criminal conduct. When Gardasil came along, the boardroom at Merck joked that its HPV vaccine could 'Help Pay for Vioxx.' Sure enough, some of the same shadowy cast of characters who were involved in the Vioxx scandal worked on Gardasil, and they employed the very same methods of manipulating science and obscuring risks as they did with Vioxx. And just as with Vioxx, Gardasil has left a calamitous health disaster in its wake."
Despite the reported injuries and deaths, Gardasil has never been shown to prevent cervical cancer, itself. On the contrary, studies have shown that systemic administration of Gardasil leads to increased rates of cervical cancer and other serious health issues, according to the lawsuit allegations.
Best Law Firms 2023

A ranking in The U.S. News – Best Lawyers® "Best Law Firms" is widely regarded by both client and legal professionals as a significant honor. It is considered the most reliable, unbiased source of legal referrals anywhere.

The Truck Safety Coalition

Wisner Baum is proud to be a sponsor of The Truck Safety Coalition, a a group of caring individuals dedicated to reducing the number of deaths and injuries caused by truck-related crashes. Our support enables them to help families and save lives.

California Powerhouse

Law360 recognizes law firms that have a strong regional presence, working on important matters within their home state. "[Wisner Baum] possesses a David v. Goliath-sized slingshot while seeking justice for everyday citizens it believes were harmed or killed through corporate wrongdoing."

Elite Trial Lawyers

NLJ and American Lawyer Media honor law firms and attorneys as Elite Trial Lawyers for their cutting-edge legal work on behalf of plaintiffs in practice areas ranging from mass torts to securities litigation.

Listed in Best Lawyers

Best Lawyers is the oldest and most respected peer-review publication in the legal profession. A listing in Best Lawyers is widely regarded by both clients and legal professionals as a significant honor, conferred on a lawyer by his or her peers.

AV Top Ranked Law Firm

Less than one-half of one percent of firms across the nation have achieved this ranking. A firm must have a high percentage of lawyers who have achieved the prestigious AV® Preeminent rating by Martindale-Hubbell®.

Verdicts Hall of Fame

The National Law Journal inducted Wisner Baum into the Verdicts Hall of Fame for obtaining the $2 billion landmark verdict in the Roundup cancer case of Pilliod et al. v. Monsanto. The verdict was #1 in California and #2 in the U.S. in 2019 and is #9 in American history.

Super Lawyers

Super Lawyers is a rating service of outstanding lawyers from more than 70 practice areas who have attained a high-degree of peer recognition and professional achievement.

National Trial Lawyers Top 100

The National Trial Lawyers Top 100 recognized the law firms of Wisner Baum, the Miller Firm and Audet & Partners with the 2019 Trial Team of the Year award (in the Mass Torts category) for their work in the groundbreaking case of Dewayne "Lee" Johnson v. Monsanto Company.

AV Preeminent Peer Review Rated

An AV® rating reflects an attorney who has reached the heights of professional excellence. The rating signifies the highest legal ability, and very high adherence to professional standards of conduct, ethics, reliability, and diligence.

Avvo 10.0 Rating

Wisner Baum is proud to have all of its lawyers listed in Avvo, a legal directory connecting people in need of legal services with lawyers and connecting lawyers to lawyers. Eight of our attorneys have earned a 10.0 perfect rating with Avvo.

Top Jury Verdict in
CA and USA

TopVerdict.com ranks our $2 billion verdict in Pilliod et al. v. Monsanto as the biggest verdict in California and the second largest verdict in the U.S. in 2019. It is the ninth largest verdict in U.S. history.

Lawdragon 500 Leading Plaintiff Consumer Lawyers

Published annually, the Lawdragon 500 Leading Plaintiff Consumer Lawyers list recognizes the "best of the best" in this area of the law through nominations, research, and review by a board of their peers.

Product Liability Practice Group of the Year

In 2020, Law360 honored the law firms "behind the litigation wins and major deals that resonated throughout the legal industry." It recognized our success in several landmark cases.

Top Personal Injury Jury Verdict in California

In 2018, our $289 million Johnson v. Monsanto verdict was the largest personal injury verdict in California. TopVerdict.com also ranked it #2 among all verdicts in California and #10 in the nation.

Bar Register of Preeminent Lawyers

The Bar Register is the definitive guide to the most distinguished law firms in America. It includes only those select law practices that have earned the highest rating in the Martindale-Hubbell Law Directory and have been designated by their colleagues as preeminent in their field.
Firm Reviews
What Our Clients Are Saying
I Can't Imagine a Better Law Firm - Best Law Firms Survey

They Are About Changing the Systems... - Kim Witczak

Top Legal Minds in the Country - From Best Lawyers® Best Law Firms

Diligent & Professional Representation - W.T.

Our Best Interest Was Always Number One on Your List - G.C. & C.C