Los Angeles truck accident lawyers from the award-winning Wisner Baum law firm are proud to support The Truck Safety Coalition, an organization working to reduce truck crash deaths and injuries in the United States and raise awareness about important truck safety issues. The Truck Safety Coalition is a partnership between Citizens for Reliable and Safe Highways (CRASH) and Parents Against Tired Truckers (P.A.T.T.) that provides victims and their families with support and resources in the aftermath of devastating truck crashes.
The Truck Safety Coalition members have firsthand experience and a wealth of knowledge to challenging questions that accident victims face because they are victims themselves:
We want to share what we have learned to help you and your family as you learn to live in your new reality. We hope you will let us help you and consider joining our extended family of crash victims and survivors.
At Wisner Baum, we share The Truck Safety Coalition's mission to ceaselessly advocate for victims of truck accidents and improve trucking safety measures to keep people safe from preventable crashes.
"We are proud to support The Truck Safety Coalition, an organization that shares our values and cares as deeply as we do for victims of truck accidents," says Timothy A. Loranger, a senior shareholder and truck accident lawyer at Wisner Baum. "The good people at The Truck Safety Coalition provide needed support to accident victims and their families, but they are also on the front lines pushing for vital policy changes aimed at protecting everyone that shares the road with trucks."
"I can tell you from experience that people are hurting in so many ways after going through something as traumatic as a truck accident," says Wisner Baum truck accident attorney Ronald L. M. Goldman. "Many victims don't know where they can go for help and support during such a trying time. That's why the Truck Safety Coalition is such a great resource for victims—they can connect with someone who has walked in their shoes and who has a good idea of what they are going through."
Truck Crash Statistics Highlight Need for Safety Improvements
According to statistics from The Truck Safety Coalition, nearly 5,000 people are killed in truck crashes each year in the U.S. This includes hundreds of truck drivers. Another 146,000 people are injured in truck accidents.
Some other notable truck accident statistics:
In fatal accidents involving a large truck and passenger vehicle, 96% of deaths are passenger vehicle occupants.
Truck accidents cost American taxpayers more than $143 billion each year.
Injuries in truck accidents increased by more than 100% between 2009 and 2018.
Deaths in truck accidents increased by more than 45% between 2009 and 2018.
Accident statistics are particularly glaring in Wisner Baum's home city of Los Angeles. Between 2017 and 2021, Los Angeles County had more truck accidents than any other county in the U.S. In 2021, one in five truck crashes in California happened in Los Angeles County, according to the Federal Motor Carrier Safety Administration (FMCSA).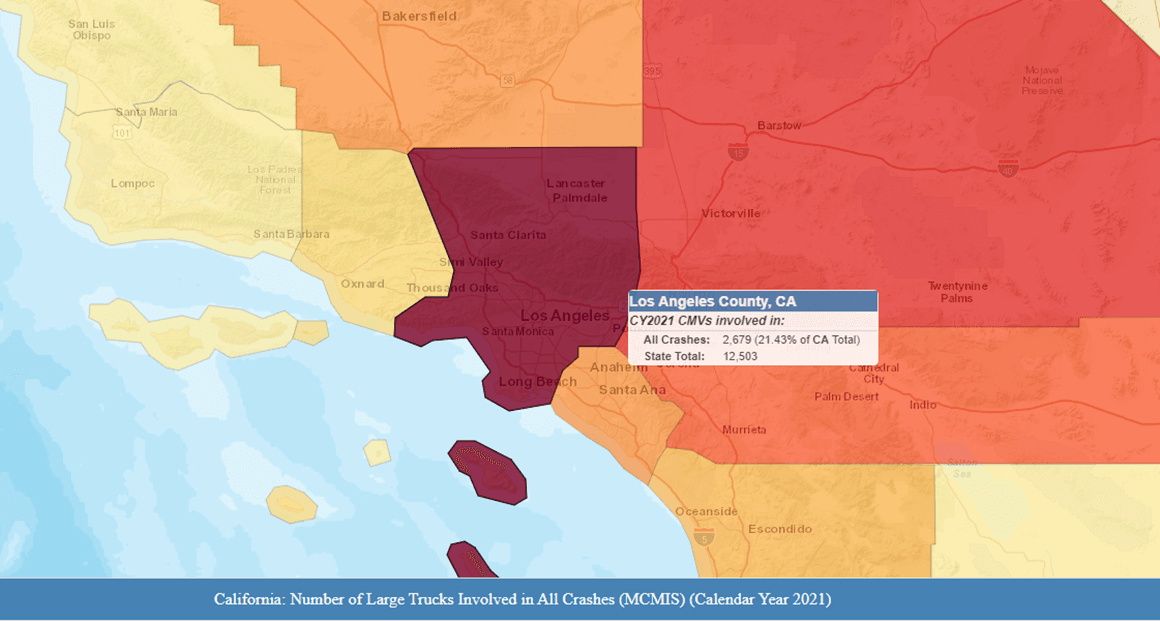 Data From the FMCSA Safety Event Mapping Tool
"Many accidents here in Los Angeles and throughout the country are preventable," says Wisner Baum truck accident lawyer Clay Robbins III. "We believe our job as attorneys is not just to help our clients get fully and fairly compensated, it's also to do whatever we can to help avoid these preventable, negligence-induced truck accidents from happening again. That ethos of helping victims and trying to make the roads safer for everyone is something we share with The Truck Safety Coalition. We are proud to support their efforts to not only improve truck safety standards but also to fight back against the trucking industry's lobbying efforts for safety exemptions and reducing insurance liability limits."
Wisner Baum Truck Accident Lawyers | Helping Victims Nationwide
The truck accident lawyers at Wisner Baum are committed to vindicating our clients' legal rights, improving truck safety, and reducing the number of preventable truck crashes that happen every year. We are not a firm that is quick to settle truck accident lawsuits—we want every case we take on to send a strong message to negligent trucking entities that putting profit over people's safety carries significant consequences.
Since we opened our doors in 1985, we have won more than $4 billion in verdicts and settlements for our clients across all areas of practice. We have the resources needed to take on any corporate opponent and win. Put your case in the hands of seasoned attorneys with a decades-long track record of success in truck accident litigation.
Some of our truck case highlights include:
$20 million truck accident verdict
$15 million truck accident settlement
$8.5 million truck accident verdict (plus pre- and post-judgment interest)
$6.9 million truck accident settlement during trial
$6 million truck accident settlement
75 truck crash cases settled for $1 million or more