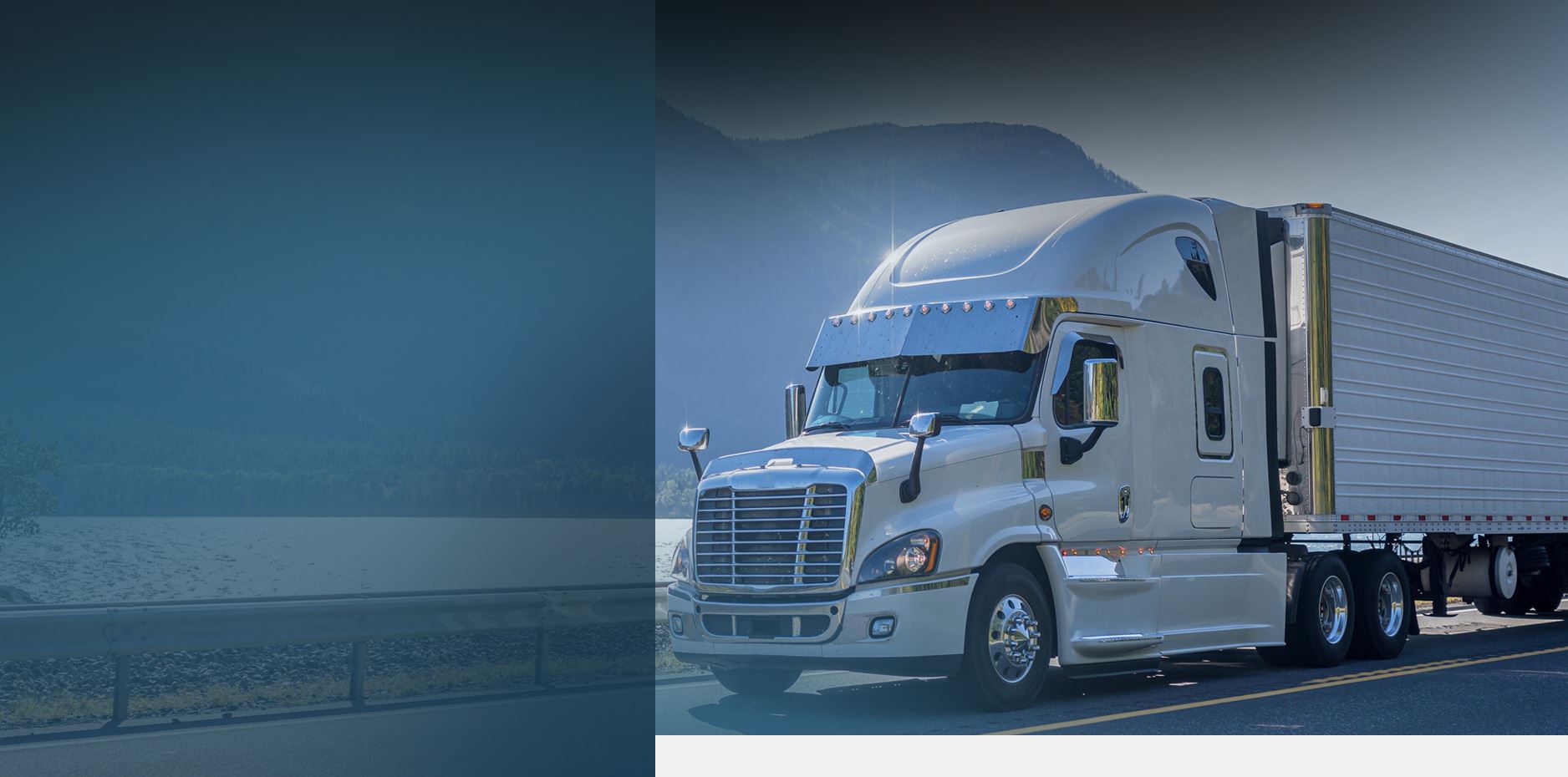 Truck Safety Client Focused. Trial Ready. Billions Won.
Truck Safety Advocates
The truck accident lawyers at Wisner Baum are all too familiar with the devastation associated with semi-truck accidents. In addition to our successes in the courtroom, the firm is dedicated to reducing the number of trucking crashes. Several of our trucking lawyers have testified before state and federal government safety committees to improve truck safety and other modes of commercial ground transportation.
Through litigation and advocacy, we make every effort to shine a light on the darker side of the trucking industry. We hope that our efforts will raise awareness and influence public policy on important truck safety issues, such as keeping heavier trucks off of our nation's highways, implementing collision avoidance systems, and barring truckers from being behind the wheel for more hours per day than is safe.
Commercial trucks require more knowledge, training, skill, and care to operate safely than do passenger vehicles. Big rigs are heavier, longer, more difficult to slow and stop, and harder to maneuver. As such, a truck driver is required to obtain a special Commercial Driver's License (CDL) to drive a commercial motor vehicle (CMV).
Trucking companies (motor carriers) are also governed by specific rules and regulations when it comes to employing commercial truck drivers. The carriers set the tone for truck safety: if an operation cuts corners, hires unsafe or unqualified drivers, and looks the other way to avoid violations, the truck drivers in their employ are more likely to follow suit when it comes to safety.
You Need an Experienced Truck Accident Lawyer with a Proven Track Record
If you or a family member was involved in a semi-truck accident, it is in your best interest to speak with an experienced truck accident lawyer about your claim. Our trucking accident litigation team consists of seasoned trial lawyers who have been in practice for decades and have argued hundreds of cases before juries in Los Angeles, throughout California, and across the nation! We know what it takes to win truck accident cases, and we won't stop fighting until we have secured the maximum allowable compensation for you and your family.
To speak with an experienced trucking attorney today, contact us or call toll-free at (855) 948-5098 for a free case evaluation.
Truck Safety Facts
Truck wrecks kill roughly 4,000 people annually. Another 100,000 more sustain truck accident injuries. The annual cost of big rig crashes exceeds $19 billion.
In the past 10 years, more than 48,000 people needlessly died and over 1 million were injured in 18 wheeler crashes.
In fatal crashes involving a passenger vehicle and a large truck, 98% of the deaths are occupants of the passenger vehicles. Adding even more weight to a big truck dramatically increases the risk of death and serious trucking accident injuries.
In the Large Truck Crash Causation Study conducted by the U.S. Department of Transportation (DOT), the following were among the top factors in large truck crashes:
Speeding/traveling too fast for conditions
Unfamiliarity with roadway or vehicle
Work-related pressure
Inattention
Aggressive driving behavior (tailgating, weaving, other)
Brake failure
Cargo shift
Alcohol or drug use
If you or a loved one have been the victim of a truck accident, contact Wisner Baum today for a free consultation.
Truck Safety and Information Resources
The Truck Safety Coalition is a partnership of Citizens for Reliable and Safe Highways (CRASH), and Parents Against Tired Truckers (P.A.T.T.) Non-profit truck safety organizations such as The Truck Safety Coalition and Public Citizen, keep a very close watch on state and federal regulations affecting the trucking industry. These truck safety groups are very proactive in supporting good law, promoting truck safety, and fighting bad laws which make our roads and highways more dangerous.
Some of our truck accident clients choose to get involved with the Truck Safety Coalition's Survivors Network.
The Truck Safety Coalition is dedicated to reducing the number of deaths and injuries caused by truck-related crashes. This volunteer network is made up of dedicated truck safety advocates.
They come from different backgrounds and interests, but all share three common goals:
Provide immediate, compassionate support to survivors and families of victims of truck crashes through our First Response program.
Educate the general public, the media, and state and federal officials on truck safety issues.
Effectively fundraise in order to support the overall mission of reducing truck crash fatalities and injuries.
CRASH (Citizens for Reliable and Safe Highways) was formed in 1990 to help mitigate the devastating problem of truck crashes. CRASH is a nationwide, grassroots non-profit organization dedicated to improving overall truck safety in the U.S. and eliminating the unnecessary deaths and injuries caused by truck crashes every year. They represent the millions of Americans who travel the nation's highways every day, including truck drivers, motorists, crash survivors and families of truck crash victims. CRASH works at all levels of government to initiate and promote truck safety legislation around the issues of truck size and weight, truck driver fatigue, and vehicle maintenance. Their goal is to make safety as important as productivity in all U.S. trucking operations.
P.A.T.T. (Parents Against Tired Truckers) was formed when a truck driver fell asleep at the wheel of his 80,000 pound rig, killing four innocent teenagers. There were no criminal charges (not even a traffic ticket) brought against this truck driver or the trucking company for their deaths. Thus, P.A.T.T. was formed in May of 1994. They have grown from a Maine grassroots group to a nationally recognized organization. They have been successful in bringing the fatigue issue to the forefront at national events though out the United States. Although misunderstood by some, P.A.T.T. is not anti-trucker. In fact, many truck drivers are applauding them for addressing issues that they themselves cannot for fear of losing their jobs.
Stop Bigger Trucks is sponsored by the Truck Safety Coalition. Sign the petition to keep bigger, longer, heavier, deadlier trucks off the roads.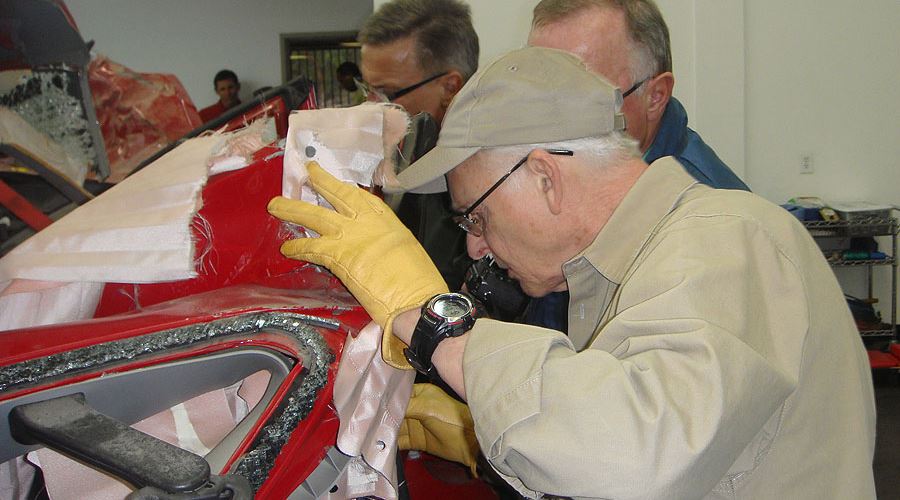 Photo: Truck Accident Trial Lawyer Ronald Goldman works alongside accident reconstruction experts on a truck accident case.
Current Truck Safety Issues
In the most comprehensive over-the-road study ever conducted of commercial driver alertness, the Federal Motor Carrier Safety Administration (FMCSA) found that:
Driver alertness and performance more consistently related to the time of day than to time-on-task, with drowsiness episodes eight times more likely between midnight and 6 a.m.
During their daily main sleep period, drivers slept for about five hours–two hours less than their "ideal" requirement.
Drivers were inaccurately assessing their own levels of alertness.
There were significant individual differences among drivers in levels of alertness and performance.
The study recognized the need for more CMV / truck driver public rest areas, pointing to a significant shortage of rest area parking for commercial vehicles and drivers. There have been some efforts to expand spaces at truck stops to meet this need. Partly in response to the study, about half of the country now permits CMV truck weigh stations not in use to remain open as rest areas.
Trailer configuration also was found to affect driver stress/fatigue as measured by lane keeping, driver subjective workload, and physiological state. Task demands were far greater with triple/A-dollies than with single trailers.
The study also investigated technological approaches to counteracting truck driver fatigue that will improve alertness and lower crash risk. Topics included improving sleep, monitoring operator alertness, alternative approaches to HOS (Hours of Service) regulation, and new methods and technologies in fatigue management.
A group also examined the prevalence of truck driver fatigue as a principal factor in local/short haul (LSH) versus over-the-road semi-truck crashes. Not surprisingly, trip distance was found to have the greatest effect on the percentage of fatigue-related fatal crashes.
Speeding is a Blatant Disregard for the Safety of Others
Trucking crashes can be caused by weather conditions, poorly designed roads, or other factors outside of the driver's control. However, when a catastrophic or fatal truck accident is caused by a speeding truck driver, there is added outrage due to the very preventable nature of these accidents.
Where a big rig driver is already carrying a hazardous amount of weight and traveling at highway speeds, speeding is a blatant disregard for the safety of other drivers and their passengers on the road. Unfortunately, as companies demand on-time delivery without factoring in unforeseen delays, the pressure for truckers to speed continues to mount.
Distracted Drivers are a Threat to Truck Safety
Accidents happen. There is a difference, however, between trucking accidents that were unavoidable and accidents that were the result of negligence. Through our years of experience litigating truck accident claims, we have recognized an increasing trend: Too many innocent people are suffering catastrophic injuries or losing their lives because of the negligence of distracted truck drivers.
In investigating truck accidents across the country, we have learned that the truck industry's emphasis on timing and profits has shifted to the truck drivers — forcing them to "multitask," drive recklessly and put lives at risk. To meet their ever tightening deadlines, many truckers drive for longer periods of time than regulations allow, take medication to stay awake, and attempt to perform their daily tasks, like eating or talking and texting on the phone, while driving.
These driver distractions can lead truckers to engage in habits like speeding, tailgating, making unsafe lane changes, driving in the wrong lane and otherwise driving recklessly.
Truckers Allowed to Drive Longer Hours
Believe it or not, U.S. legislators in 2005 approved a new law called the Trucker Hours-of-Service Rule, which we feel creates a more dangerous environment as it increases the amount of hours a trucker can drive without a break and the overall hours they can drive weekly.
According to the Federal Motor Carrier Safety Administration:
Drivers may drive up to 11 hours in the 14-hour on-duty window after they come on duty following 10 or more consecutive hours off duty.
The 14-hour on-duty window may not be extended with off-duty time for meal and fuel stops, etc.
The prohibition on driving after being on duty 60 hours in 7 consecutive days, or 70 hours in 8 consecutive days, remains the same, but drivers can "restart" the 7/8 day period anytime a driver has 34 consecutive hours off duty.
CMV drivers using the sleeper berth provision must take at least 8 consecutive hours in the sleeper berth, plus 2 consecutive hours either in the sleeper berth, off duty, or any combination of the two.
Missing from the new rule is a much needed requirement to monitor actual truck driving hours by electronic onboard recorders which would allow for effective enforcement of the rule.
Other Truck Safety Advocates
The National Safety Council (NSC), chartered by an act of Congress, is a non-governmental, not-for-profit, public service organization devoted solely to educating and influencing society to adopt safety, health, and environmental policies, practices, and procedures that prevent and mitigate human suffering and economic losses arising from preventable causes.
Public Citizen is a national, nonprofit consumer advocacy organization founded in 1971 to represent consumer interests in Congress, the executive branch and the courts. Public Citizen's Auto Safety Group works to improve highway safety by lobbying Congress to pass critical legislation, monitors the Department of Transportation to be sure it carries out the will of Congress, conducts public awareness campaigns on critical issues, and participates in lawsuits to force government action when necessary.
Government Agencies
The Department of Transportation (DOT) was established by an act of Congress on October 15, 1966. The DOT's purpose is to "serve the United States by ensuring a fast, safe, efficient, accessible and convenient transportation system that meets our vital national interests and enhances the quality of life of the American people, today and into the future."
The Federal Highway Administration (FHWA) is a major agency of the U.S. Department of Transportation (DOT). The FHWA is charged with the broad responsibility of ensuring that America's roads and highways continue to be the safest and most technologically up-to-date.
The Federal Motor Carrier Safety Administration (FMCSA) was established as a separate administration within the U.S. Department of Transportation on January 1, 2000, pursuant to the Motor Carrier Safety Improvement Act of 1999. Their primary mission is to reduce crashes, injuries, and fatalities involving large trucks and buses.
The National Highway Traffic Safety Administration (NHTSA), under the U.S. Department of Transportation was established by the Highway Safety Act of 1970, as the successor to the National Highway Safety Bureau, to carry out safety programs under the National Traffic and Motor Vehicle Safety Act of 1966 and the Highway Safety Act of 1966. The Vehicle Safety Act has subsequently been recodified under Title 49 of the U. S. Code in Chapter 301, Motor Vehicle Safety. NHTSA also carries out consumer programs established by the Motor Vehicle Information and Cost Savings Act of 1972, which has been recodified in various Chapters under Title 49.
Call (855) 948-5098 or fill out our online form to schedule a free consultation.
Trucking Safety Improvement Advocates
Justice often goes beyond a successful resolution of a truck accident claim. Our semi-truck lawyers work to improve truck safety and prevent crashes similar to those our clients and their families were forced to endure.
For decades, our firm has spearheaded and participated in campaigns that led to safety improvements, including several involving commercial transportation.
One of our trucking attorneys testified at a special California State Senate Transportation Committee Hearing that probed the events leading up to a fatal accident that killed our clients' son. Our firm informed the committee that Caltrans had granted a permit to a trucking company to carry a load 15 feet high on a freeway with an overpass only 14 feet, 10 inches high. When the truck traveled under the overpass its large tank was ripped from the truck by the overpass and crushed the car traveling behind the truck. To learn more about Wisner Baum's trucking safety advocacy, visit our advocacy campaigns.
$6 Million Settlement Fatal Truck Accident

Wisner Baum obtained a $6 million wrongful death settlement on behalf of an individual who died following a truck crash.

$15 Million Settlement Truck Accident

Our firm successfully negotiated a $15 million catastrophic injury settlement for our clients. The case stemmed from a Southern California accident involving a commercial truck and a pedestrian.

$8.5 Million Verdict Commercial Truck Accident

Wisner Baum secured a $8.5 million wrongful death verdict against the food industry company, Tyson Foods, for the wrongful death of a young man.

$6.9 Million Settlement Truck Accident Settlement

After a semi-truck drove over a stopped car, killing two of its occupants and injuring a third, one of our attorneys took the case all the way to trial. Our firm continued in pursuit of justice for the three victims over a four-day trial until the case finally settled for $6.9 million. Client-Focused Representation
REVIEWS & TESTIMONIALS
We believe our track record speaks for itself. But you don't have to take our word for it. See what our clients have to say about working with us.
"I Can't Imagine a Better Law Firm"

Multiple lawyers recommended Wisner Baum to me and I have been consistently impressed with the quality of their work.

- Best Law Firms Survey

"They Are About Changing the Systems..."

Wisner Baum are not only amazing attorneys but more importantly, they are activists. They are about changing the systems which got us into trouble in the first place. They understand their role in the process of making change.

- Kim Witczak

"Top Legal Minds in the Country"

The Wisner Baum firm has some of the top legal minds in the country; they are driven, determined, trustworthy, ethical and passionate.

- From Best Lawyers® Best Law Firms

"Diligent & Professional Representation"

Thanks to your efforts I was able to recover from a tragic experience and turn my life around for the best.

- W.T.

"Our Best Interest Was Always Number One on Your List"

A special thank you to your Spanish-speaking staff for the extra effort put into this case. The language barrier was never a problem, and we are so very thankful to them. Your name holds much respect in our family.

- G.C. & C.C

"We Have Never Met a More Wonderful Group of People"

It is obvious that the people at Wisner Baum believe in what they do. And that you all really care about your clients.

- The B. Family

"They Worked Very Hard and Kept in Contact, Which Is Very Important to Me"

I appreciate that you care about how I feel and that you take time to use your talents to ensure your every contact with me is warmly professional.

- A.D.B.

"Your Expertise in This Field Gave Me the Utmost Trust and Confidence"

I wanted a fair settlement within an appropriate time frame, and without any public scrutiny. With your hard work and dedication, we were able to achieve those goals.

- T.O.