Cymbalta® Withdrawal and "Brain Zaps"
We are no longer accepting new Cymbalta withdrawal cases.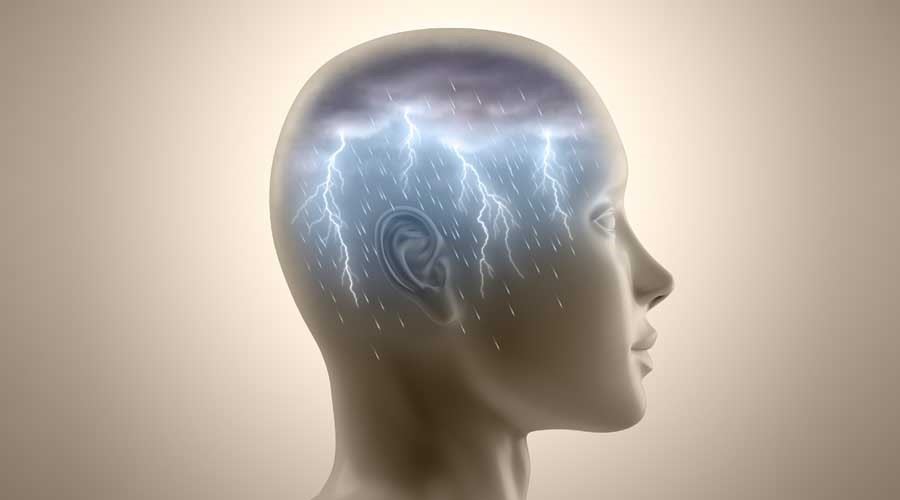 In his book, The Antidepressant Solution, Joseph Glenmullen, M.D., of Harvard Medical School, describes a common symptom of withdrawal from SSRI and SNRI antidepressants, referred to by many as "brain zaps."
"These are lightening-like jolts inside the head that make patients feel as if they are having a dangerous neurological event, such as a stroke…. In some patients … bending the neck brings on waves of electric shock-like sensations down the spine, arms, and legs."
Dr. Glenmullen gives a detailed report of a patient who experienced shooting electric shock sensations, accompanied by severe shaking and trembling. An electroencephalogram ("EEG") provided evidence the woman was having seizures and she was put on anticonvulsants.
In 2007, two British psychiatrists wrote an article describing "sensory symptoms (e.g. sensations resembling electric shocks) or symptoms of disequilibrium (e.g. dizziness) in brief bursts when they move their head or eyes. Such symptoms are highly characteristic of primary discontinuation syndrome" (emphasis added).
What Is a Brain Zap From an Antidepressant?
The exact cause of brain zaps and other withdrawal effects of Cymbalta are unknown, but they are thought to be related to changes that occur in the brain when exposed to antidepressants.
Nerve signals are transmitted from one cell to another through the release of a chemical messenger, called a neurotransmitter, into the space between the sending and receiving cells. The receiving cell has receptors into which the neurotransmitter fits like a key in a lock, triggering complex reactions in the cell. Antidepressants like Cymbalta increase the neurotransmitters serotonin and norepinephrine (similar to adrenaline) in the gap between nerve cells. The cells have multiple reactions to this increase. The sending cell becomes "desensitized" – it doesn't fire as much – and the receiving cells decrease the number of receptors.
In 1996, Steven Hyman, former director of the National Institute of Mental Health, described these adjustments in a paper published in the American Journal of Psychiatry. Chronic administration of antidepressants and antipsychotics, he explained, creates changes in the normal functioning of the brain that "likely exceed the strength or time course of almost any natural stimulus." The cells, responding to what Hyman called the "significant environmental challenges" of the drugs, try to adjust, leading to "substantial and long-lasting alterations in neural function." Antidepressants produce their effects, wrote Hyman, by "altering the functional activity of critical neural circuits in the brain," producing a state "which may be qualitatively as well as quantitatively different from the normal state." In short, after chronic administration of antidepressants, the brain is functioning abnormally.
Cymbalta Treatment and Brain Zaps
Brain zaps and other symptoms of withdrawing from Cymbalta therefore can be seen as the brain's reaction to suddenly being removed from the abnormal environment to which it has adapted, like a deep sea diver who returns to the surface too quickly. The authors of a 2003 paper in the journal Psychopharmacology suggested that paresthesia (sensations of pricking, tingling, or creeping on the skin, including electric shock sensation in the brain) resulting from antidepressant withdrawal may be connected to the role that serotonin plays in controlling muscle movement and sensory function, noting that shock sensations often intensify with movement. "Significant alteration of neuronal activity may occur during treatment, possibly increasing with higher dosages or longer duration of treatment," they wrote.
How Long do Cymbalta Brain Zaps Last?
Other investigators have theorized that brain zaps are connected to antidepressants' effect on norepinephrine (also called noradrenaline), arguing that brain zaps are "similar to pre-seizure symptoms in epilepsy, and there is now evidence of the relevant role of the noradrenergic system in modulating seizures." They also offer evidence that the withdrawal symptoms may not be dose dependent. The persistence of withdrawal effects, which can continue for over a year, indicates that Cymbalta and similar drugs may cause alterations in the brain that have a degree of permanence that is not easily reversed.
Pharmaceutical Settlement $105 Million Settlement

Wisner Baum obtained $105 million on behalf of multiple clients involved in a pharmaceutical negligence case.

Paxil Pediatric Class Action $63 Million Settlement

$63 million pediatric class action re false promotion of Paxil. Judge approves final terms of improved national pediatric paxil class action settlement – consumers get a better deal.

Third-Party Payer Class Action $40 Million Settlement

$40 million third-party payer class action re off-label promotion of Paxil. Judge approves $40 million settlement in the second phase of national pediatric paxil class action – insurance companies to be reimbursed.

Defective Drug Class Action $28 Million Settlement

$28 million Paxil defective drug class action. A class action has been brought in the US territory of Puerto Rico against UK-based drug major GlaxoSmithKline.

Celexa-Lexapro Pediatric Class Action $10 Million Settlement

$10 million pediatric class action re false promotion of Celexa and Lexapro. Babies born to women who have used Lexapro and other similar medications such as Zoloft, Celexa, Prozac, Paxil, and Symbyax are at an increased risk for birth defects.

Drug Injury $9 Million Settlement

Wisner Baum obtained a $9 million settlement on behalf of an individual who was injured by a drug.
Best Law Firms 2023

A ranking in The U.S. News – Best Lawyers® "Best Law Firms" is widely regarded by both client and legal professionals as a significant honor. It is considered the most reliable, unbiased source of legal referrals anywhere.

The Truck Safety Coalition

Wisner Baum is proud to be a sponsor of The Truck Safety Coalition, a a group of caring individuals dedicated to reducing the number of deaths and injuries caused by truck-related crashes. Our support enables them to help families and save lives.

California Powerhouse

Law360 recognizes law firms that have a strong regional presence, working on important matters within their home state. "[Wisner Baum] possesses a David v. Goliath-sized slingshot while seeking justice for everyday citizens it believes were harmed or killed through corporate wrongdoing."

Elite Trial Lawyers

NLJ and American Lawyer Media honor law firms and attorneys as Elite Trial Lawyers for their cutting-edge legal work on behalf of plaintiffs in practice areas ranging from mass torts to securities litigation.

Listed in Best Lawyers

Best Lawyers is the oldest and most respected peer-review publication in the legal profession. A listing in Best Lawyers is widely regarded by both clients and legal professionals as a significant honor, conferred on a lawyer by his or her peers.

AV Top Ranked Law Firm

Less than one-half of one percent of firms across the nation have achieved this ranking. A firm must have a high percentage of lawyers who have achieved the prestigious AV® Preeminent rating by Martindale-Hubbell®.

Verdicts Hall of Fame

The National Law Journal inducted Wisner Baum into the Verdicts Hall of Fame for obtaining the $2 billion landmark verdict in the Roundup cancer case of Pilliod et al. v. Monsanto. The verdict was #1 in California and #2 in the U.S. in 2019 and is #9 in American history.

Super Lawyers

Super Lawyers is a rating service of outstanding lawyers from more than 70 practice areas who have attained a high-degree of peer recognition and professional achievement.

National Trial Lawyers Top 100

The National Trial Lawyers Top 100 recognized the law firms of Wisner Baum, the Miller Firm and Audet & Partners with the 2019 Trial Team of the Year award (in the Mass Torts category) for their work in the groundbreaking case of Dewayne "Lee" Johnson v. Monsanto Company.

AV Preeminent Peer Review Rated

An AV® rating reflects an attorney who has reached the heights of professional excellence. The rating signifies the highest legal ability, and very high adherence to professional standards of conduct, ethics, reliability, and diligence.

Avvo 10.0 Rating

Wisner Baum is proud to have all of its lawyers listed in Avvo, a legal directory connecting people in need of legal services with lawyers and connecting lawyers to lawyers. Eight of our attorneys have earned a 10.0 perfect rating with Avvo.

Top Jury Verdict in
CA and USA

TopVerdict.com ranks our $2 billion verdict in Pilliod et al. v. Monsanto as the biggest verdict in California and the second largest verdict in the U.S. in 2019. It is the ninth largest verdict in U.S. history.

Lawdragon 500 Leading Plaintiff Consumer Lawyers

Published annually, the Lawdragon 500 Leading Plaintiff Consumer Lawyers list recognizes the "best of the best" in this area of the law through nominations, research, and review by a board of their peers.

Product Liability Practice Group of the Year

In 2020, Law360 honored the law firms "behind the litigation wins and major deals that resonated throughout the legal industry." It recognized our success in several landmark cases.

Top Personal Injury Jury Verdict in California

In 2018, our $289 million Johnson v. Monsanto verdict was the largest personal injury verdict in California. TopVerdict.com also ranked it #2 among all verdicts in California and #10 in the nation.

Bar Register of Preeminent Lawyers

The Bar Register is the definitive guide to the most distinguished law firms in America. It includes only those select law practices that have earned the highest rating in the Martindale-Hubbell Law Directory and have been designated by their colleagues as preeminent in their field.
Firm Reviews
What Our Clients Are Saying
I Can't Imagine a Better Law Firm - Best Law Firms Survey

They Are About Changing the Systems... - Kim Witczak

Top Legal Minds in the Country - From Best Lawyers® Best Law Firms

Diligent & Professional Representation - W.T.

Our Best Interest Was Always Number One on Your List - G.C. & C.C