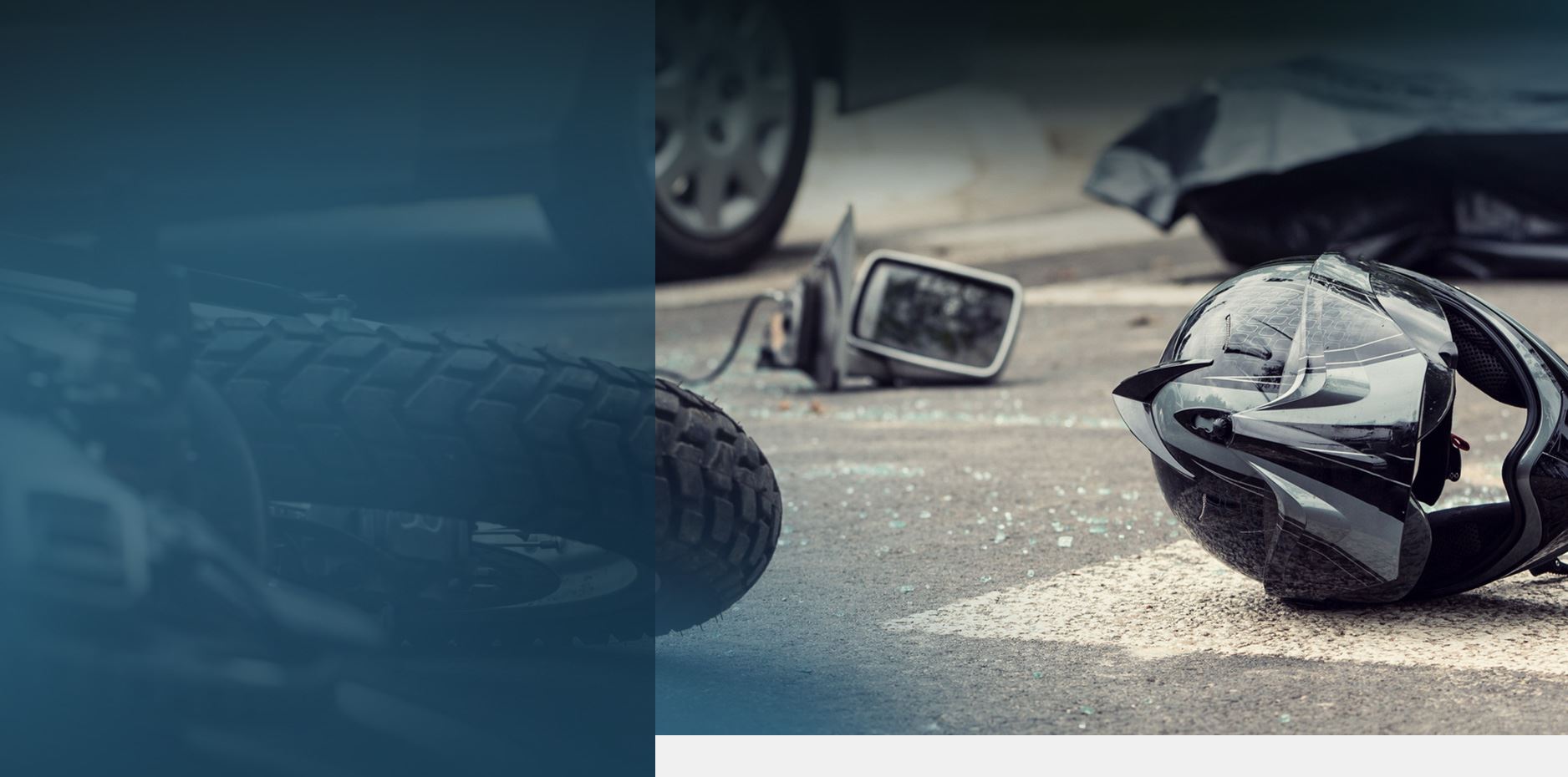 Motorcycle Accidents Client Focused. Trial Ready. Billions Won.
San Francisco Motorcycle Accident Lawyers
Injured in a Motorcycle Crash? Call

(855) 948-5098
Motorcycle accidents are far too common. In 2019 alone, the National Highway Traffic Safety Administration (NHTSA) reported a total of 5,014 motorcycle accident fatalities. What's worse, many of these accidents could have been avoided.
If you have been injured in a motorcycle accident, you may have grounds to file a lawsuit and recover damages. At Wisner Baum, we are proud to take on these cases for motorcycle accident victims across the Bay Area. We also represent those who have lost family members in wrongful death lawsuits stemming from motorcycle crashes. With a record of over $4 billion won for our clients, you can trust our team to focus all its efforts on winning justice for you.
Call (855) 948-5098 to learn more about how our San Francisco motorcycle accident lawyers can help you in your case!
Who Can File a Motorcycle Accident Lawsuit?
If another party committed one or more of the following acts of negligence, it is highly likely that you have a case:
Speeding
Driving aggressively
Weaving through traffic
Attempting to execute an unsafe pass
Failing to signal when turning or changing lanes
Failing to check for motorcycle riders
Driving while drunk or impaired
It does not matter whether the other party's negligence was intentional or unintentional. The state of California may consider the negligent party liable for any damages you have incurred as a result of the crash. Common damages in motorcycle accident lawsuits include:
Pain and suffering
Emotional distress
Medical and hospital bills
Lost wages, current and future
Disability accommodations
One thing to keep in mind as you decide whether to pursue a motorcycle accident lawsuit—the state of California has a two-year statute of limitations in which victims or their families must timely file a claim. This means victims must file a claim within two years of the accident to pursue compensation in a lawsuit.
If you suspect that the other party's negligence led to the motorcycle accident in which you were injured, it is recommended to consult a lawyer. They can investigate the facts of your case to identify negligence, determine liability, calculate your rightful compensation, and, most importantly, make sure that your legal case is centered around your needs.
Common Biker Accident Injuries
Motorcyclists are more vulnerable to injury than car or truck occupants. Wisner Baum attorneys in San Francisco have helped biker clients who sustained the following injuries in car accidents and truck accidents:
Broken bones
Damage to internal organs
Severe lacerations or road rash
Those who sustain any of these injuries after a motorcycle accident must immediately seek medical attention. Many victims of motorcycle crashes often spend months or longer recovering from their injuries. Others who are less fortunate must face a completely new life with permanent and debilitating injuries.
If you sustained injuries after a wreck, it is best to speak with an attorney as soon as you are able. Let your lawyer help you with your claim so you can focus on your recovery.
How to Find the Best Motorcycle Accident Attorney for Your Claim
A few key points to consider in your search for a San Francisco motorcycle accident attorney include the following:
Track record of success: Has the firm and its motorcycle accident lawyers handled cases similar to yours? At Wisner Baum, we have successfully litigated a variety of motorcycle accident cases and have recovered multimillion-dollar verdicts and settlements for injured riders.
Peer recognition and industry acclaim: Does the firm have a good reputation among its peers? Has it won awards for its work? Wisner Baum is proud to have been met with much acclaim over the years, including from our peers, Super Lawyers®, The National Trial Lawyers, U.S. News — Best Lawyers®, and from Law360 choosing us as a California Powerhouse.
Extensive experience in various practice areas: Most cases require a knowledge of a range of practice areas. For example, if a motorcycle crash involves a truck, it is best to work with a lawyer skilled in both motorcycle accident law and truck accident law. Wisner Baum's team has thorough experience in a range of related practice areas and can use this knowledge to benefit your case.
Glowing client testimonials: A firm's client testimonials can tell you so much about their attorneys, such as the level of care and expertise they provide to their clients. Wisner Baum takes great pride in the glowing reviews we receive from our clients, and we are happy to provide additional reviews and references upon request.
Contact us online to schedule a free, confidential consultation. Our San Francisco motorcycle accident attorneys offer services in English, Spanish, Farsi, and more.
Don't Wait to Get Started on Your Claim
At Wisner Baum, we are recognized by our peers and clients for our effectiveness in advocating for injured motorcycle riders and their loved ones. In fact, we are known for going above and beyond for our clients, exploring all options to maximize our clients' compensation. After being injured, you deserve the help of accomplished legal professionals—look no further than our firm's San Francisco team.
Contact our dedicated team of San Francisco motorcycle accident attorneys today to learn more about how we can assist you or a loved one after an injury.
$2.0 Billion Verdict Personal Injury

In May of 2019, the jury in the case of Pilliod et al. v, Monsanto Company ordered the agrochemical giant to pay $2.055 billion in damages to the plaintiffs, Alva and Alberta Pilliod, a Bay Area couple in their 70s.

$105 Million Settlement Pharmaceutical Settlement

Wisner Baum obtained $105 million on behalf of multiple clients involved in a pharmaceutical negligence case.

$18 Million Settlement Whistleblower Settlement

Wisner Baum secured an $18 million settlement against the Boeing Company for overcharging the U.S. government on aircraft maintenance.

$17.5 Million Settlement A Major US Plane Crash

Wisner Baum obtained a $17.5 million settlement on behalf of a client who was killed in a major U.S. plane crash.

$15 Million Settlement Truck Accident

Our firm successfully negotiated a $15 million catastrophic injury settlement for our clients. The case stemmed from a Southern California accident involving a commercial truck and a pedestrian. Client-Focused Representation
REVIEWS & TESTIMONIALS
We believe our track record speaks for itself. But you don't have to take our word for it. See what our clients have to say about working with us.
"I Can't Imagine a Better Law Firm"

Multiple lawyers recommended Wisner Baum to me and I have been consistently impressed with the quality of their work.

- Best Law Firms Survey

"They Are About Changing the Systems..."

Wisner Baum are not only amazing attorneys but more importantly, they are activists. They are about changing the systems which got us into trouble in the first place. They understand their role in the process of making change.

- Kim Witczak

"Top Legal Minds in the Country"

The Wisner Baum firm has some of the top legal minds in the country; they are driven, determined, trustworthy, ethical and passionate.

- From Best Lawyers® Best Law Firms

"Diligent & Professional Representation"

Thanks to your efforts I was able to recover from a tragic experience and turn my life around for the best.

- W.T.

"Our Best Interest Was Always Number One on Your List"

A special thank you to your Spanish-speaking staff for the extra effort put into this case. The language barrier was never a problem, and we are so very thankful to them. Your name holds much respect in our family.

- G.C. & C.C

"We Have Never Met a More Wonderful Group of People"

It is obvious that the people at Wisner Baum believe in what they do. And that you all really care about your clients.

- The B. Family

"They Worked Very Hard and Kept in Contact, Which Is Very Important to Me"

I appreciate that you care about how I feel and that you take time to use your talents to ensure your every contact with me is warmly professional.

- A.D.B.

"Your Expertise in This Field Gave Me the Utmost Trust and Confidence"

I wanted a fair settlement within an appropriate time frame, and without any public scrutiny. With your hard work and dedication, we were able to achieve those goals.

- T.O.
Wisner Baum's Blog
Recent Posts