Winning Litigators Client focused. trial ready. billions won.
Law.com and NLJ Name R. Brent Wisner to 2019 Winning Litigators List
Oct. 31, 2019 – Washington D.C. – – Wisner Baumattorney and vice president R. Brent Wisner was named to Law.com and the National Law Journal's 2019 Winning Litigators list. The honor recognizes attorneys throughout the nation who notched big victories for their clients in high-stakes cases over the last year.
The attorneys recognized as 2019 Winning Litigators were honored last night at the National Law Journal's annual legal awards held at the Mayflower Hotel in Washington D.C. Brent received this recognition for his role in the Monsanto Roundup litigation. He served on the trial team in all three of the first Monsanto Roundup cases to go before juries and was co-lead counsel in two of the cases.
The first three trials resulted in landmark jury verdicts for the plaintiffs worth a combined $2.424 billion.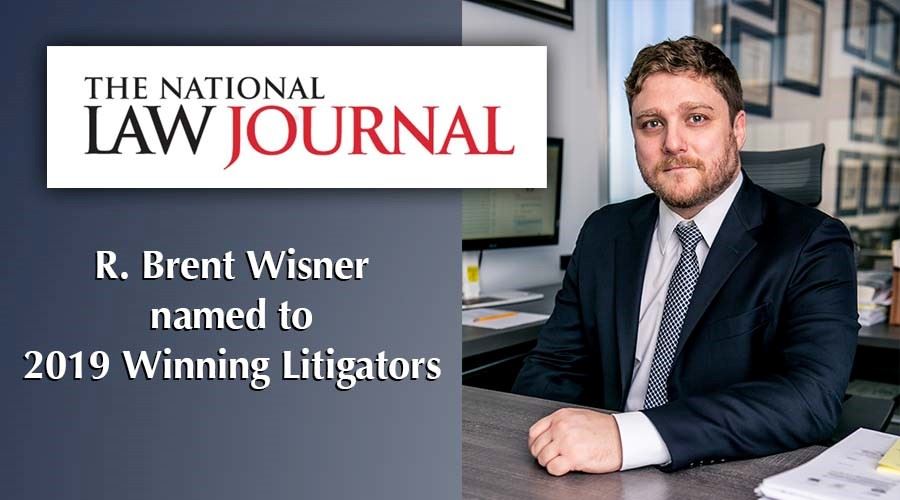 Work on Monsanto Roundup Litigation Lands R. Brent Wisner on Winning Litigators List for 2019
Monsanto's Roundup weed killer is one of the most ubiquitous products in agriculture. People have to g
o to great lengths to avoid exposure. Roundup is sprayed in parks, playgrounds, schools, and along highways, among many other places. Roundup residue is found in many common foods.
For decades, Monsanto has maintained that Roundup and its key ingredient, glyphosate, is safe. A Roundup advertisement once characterized the product as safer than table salt. But in 2015 when the International Agency for Cancer (IARC) classified glyphosate as a "probable human carcinogen," many people throughout the country took notice and filed lawsuits against Monsanto.
Now, roughly four years later, more than 18,400 people have filed lawsuits against Monsanto alleging that exposure to Roundup caused them, or a family member, to develop non-Hodgkin lymphoma. The plaintiffs allege that Monsanto refused to warn consumers, despite knowing for decades that Roundup causes cancer.
The first three trials:
The juries in all three trials found that exposure to Monsanto's Roundup weed killer caused the plaintiffs to develop non-Hodgkin lymphoma. The jury verdicts worth billions sent Bayer's stock to historic lows. Some in the boardroom questioned the leadership that signed off on the Monsanto–Bayer merger.
May of 2019 brought the biggest jury verdict—$2.055 billion for a Bay Area couple who used Roundup on their properties for decades.
During the Pilliod trial, Brent, his co-lead counsel, Michael Miller from The Miller Firm, and their colleagues were able to show the jurors damaging internal Monsanto documents demonstrating the company's manipulation of scientific literature, including ghostwriting several review papers on a key Roundup ingredient, glyphosate, published in scientific journals and cited in Environmental Protection Agency (EPA) regulatory reviews.
The jury also saw documents showing Monsanto's efforts to influence regulatory agencies, including EPA, as well as evidence that Monsanto ran a public relations campaign to plant favorable stories in Reuters and other media outlets to defend its products and discredit scientists who determined glyphosate was linked to cancer.
As with the previous trials, the jury in the Pilliod case found that exposure to Roundup caused the plaintiffs to develop cancer, and that Monsanto failed to warn of this severe health hazard. The jury also found that Monsanto acted with malice, oppression, or fraud and should be punished for its conduct.
"People told us we would lose the jury, but we knew that they were invested in getting to the truth and were willing to listen," said Wisner in an interview with Law.com. "So, we laid the evidence on thick and it clearly paid off."
"We achieved this historic result by taking the weakness of the case, i.e., that the [Environmental Protection Agency] does not think Roundup causes cancer, and using that fact to show how invasive and successful Monsanto's 40 years of corruption and fraud has been. Their conduct, supported by hundreds of damning emails and internal documents, pitted against a husband and wife whose lives were devastated by the same cancer—the jury understood and decided to send a message." — R.Brent Wisner
The $2.055 billion verdict in the Pilliod trial is the second-largest personal injury verdict to date in the United States this year and the ninth-largest in U.S. history. While the jury verdicts from all three trials were subsequently reduced by the overseeing judges, the effects of the verdicts are still being felt by Bayer.
Since obtaining these verdicts, the law firm of Wisner Baum was named 2019 Trial Team of the Year in the Mass Torts category by The National Trial Lawyers Top 100 and Elite Trial Lawyers 2019 by The National Law Journal. Brent Wisner has been honored with many awards due to these verdicts, including the Daily Journal's California's Top 100 Lawyers for 2018, America's 50 Most Influential Trial Lawyers by The National Law Journal and Trial Lawyer Magazine, Daily Journal's Top Plaintiffs Lawyers in California, Daily Journal Top 40 Under 40 for 2019, and now, the National Law Journal's Winning Litigators.
Locally & Nationally Recognized OVER $4 BILLION IN VERDICTS & SETTLEMENTS
$2.0 Billion Verdict Personal Injury

In May of 2019, the jury in the case of Pilliod et al. v, Monsanto Company ordered the agrochemical giant to pay $2.055 billion in damages to the plaintiffs, Alva and Alberta Pilliod, a Bay Area couple in their 70s.

$289.2 Million Verdict Personal Injury

On Aug. 10, 2018, a San Francisco jury ordered Monsanto to pay $39.25 million in compensatory damages and $250 million in punitive damages to Mr. Johnson, a former groundskeeper who alleged exposure to Monsanto's herbicides caused him to develop terminal non-Hodgkin lymphoma.

$265 Million Settlement Fatal Train Crash

In 2016, Wisner Baum attorney Timothy A. Loranger and six other attorneys in the Plaintiffs' Management Committee were able to secure a $265 million settlement for victims of the 2015 Amtrak 188 derailment in Philadelphia, one of the largest in the U.S. for 2016.

$105 Million Settlement Pharmaceutical Settlement

Wisner Baum obtained $105 million on behalf of multiple clients involved in a pharmaceutical negligence case.

$80 Million Verdict Personal Injury

Wisner Baum attorneys served on the trial team in the case of Hardeman v. Monsanto Company, which resulted in an $80 million jury verdict for the plaintiff, Edwin Hardeman.

$63 Million Settlement Paxil Pediatric Class Action

$63 million pediatric class action re false promotion of Paxil. Judge approves final terms of improved national pediatric paxil class action settlement – consumers get a better deal.