Glyphosate Cancer Pathway
Following its review of the cancer studies, the WHO glyphosate cancer monograph discusses the means by which the herbicide could cause cancer, beginning with its absorption by the body.
A study called the Farm Family Exposure Study found that 60% of farmers had glyphosate in their urine in samples taken within 24 hours after they applied a formulation containing the chemical. Farmers who did not use rubber gloves had higher concentrations of the compound in their urine than those who did. 4% of the spouses and 12% of the children also had glyphosate detectable in their urine samples. Exposure of the general public to glyphosate occurs mainly via food.
Roundup (Glyphosate) Damages Genetic Material
The WHO glyphosate cancer scientists found "strong" evidence that formulations containing glycophase are genotoxic. That is, they can damage the genetic material of a cell.
Most cells have 23 pairs of chromosomes. These thread-like structures are made of deoxyribonucleic acid (DNA) and carry a person's genetic information in the form of genes. Genes control the activities of a cell. Damage to the genetic material of cells can lead to cancer.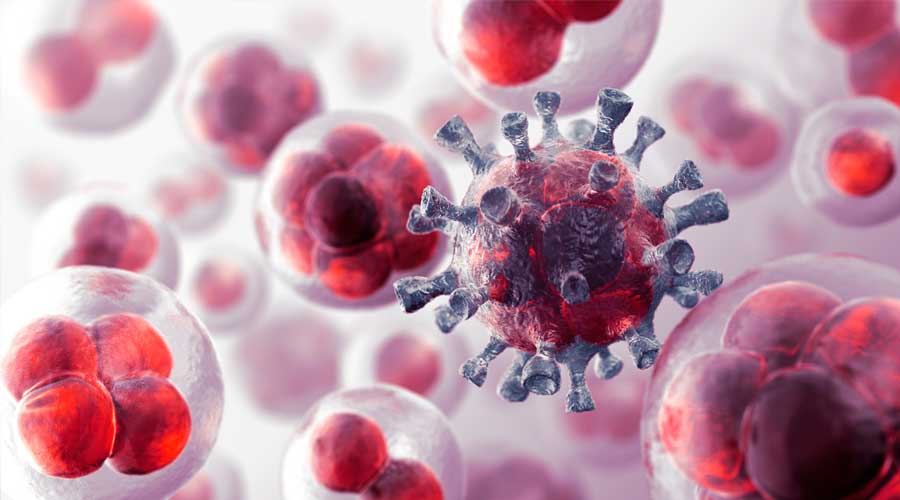 One study reviewed by the WHO glyphosate cancer team examined chromosomal damage before and after aerial spraying with a product that contained glyphosate. There were significant indications of damage in three of the four geographical areas studied. Additional evidence of genotoxicity came from studies that found "biomarkers of DNA adducts" and other types of chromosomal damage in human cells, mammals and non-mammalian organisms. Biomarkers are measurable indicators of the presence of a disease. DNA adducts are the result of DNA attaching to a cancer causing chemical. They may be found in the initial stages of cancer. DNA adducts, for example, are part of the pathway that leads from smoking to cancer.
There is also moderate evidence for the genotoxicity of AMPA. Microbes in the soil degrade glyphosate to AMPA and AMPA has also been found in human urine.
"Extensive research during last two decades has revealed the mechanism by which continued oxidative stress can lead to chronic inflammation, which in turn could mediate most chronic diseases including cancer, diabetes, cardiovascular, neurological and pulmonary diseases." - Simon Reuter et al., "Oxidative stress, inflammation, and cancer: How are they linked?" Free Radical Biology and Medicine, 2010 Dec 1; 49(11): 1603–1616.
Roundup (Glyphosate) and Oxidative Stress
The WHO glyphosate cancer investigators also found "strong evidence that glyphosate, AMPA, and glyphosate-based formulations can induce oxidative stress." Oxidative stress is a process within the body that has been described as a "rusting" of the body. In 2010, scientists at the University of Texas MD Anderson Cancer Center wrote that extensive research had established a pathway leading from oxidative stress to chronic inflammation and from there to several chronic diseases, including cancer.
Glyphosate Cancer Risk to Human Health
In the U.S., every pesticide must be registered for use by the Environmental Protection Agency. This requires an EPA finding that the pesticide "can be used effectively without posing unreasonable risks to human health and the environment." The WHO Glyphosate Cancer monograph strongly suggests that the registration of this chemical should be reconsidered.
The IARC monograph is available online at the IARC website. A summary of the entire monograph results was published in Lancet Oncology in May 2015.
Summary Information
Title

Some Organophosphate Insecticides and Herbicides: Diazinon, Glyphosate, Malathion, Parathion, and Tetrachlorvinphos, Monograph on Glyphosate

Authors

International Agency for Research on Cancer (IARC), IARC Working Group, Lyon France

Journal

IARC Monographs on the Evaluation of Carcinogenic Risks to Humans, Vol. 112, 3-10 March, 2015.

Funding

Contributions paid by its participating states and major funding sources including the European Commission, the U.S. National Institutes of Health, the World Cancer Research Fund International, the Bill and Melinda Gates Foundation and both charitable and governmental sources in France, such as ANSES, ARC, CLARA, FINOVI, FDF and LNCC.