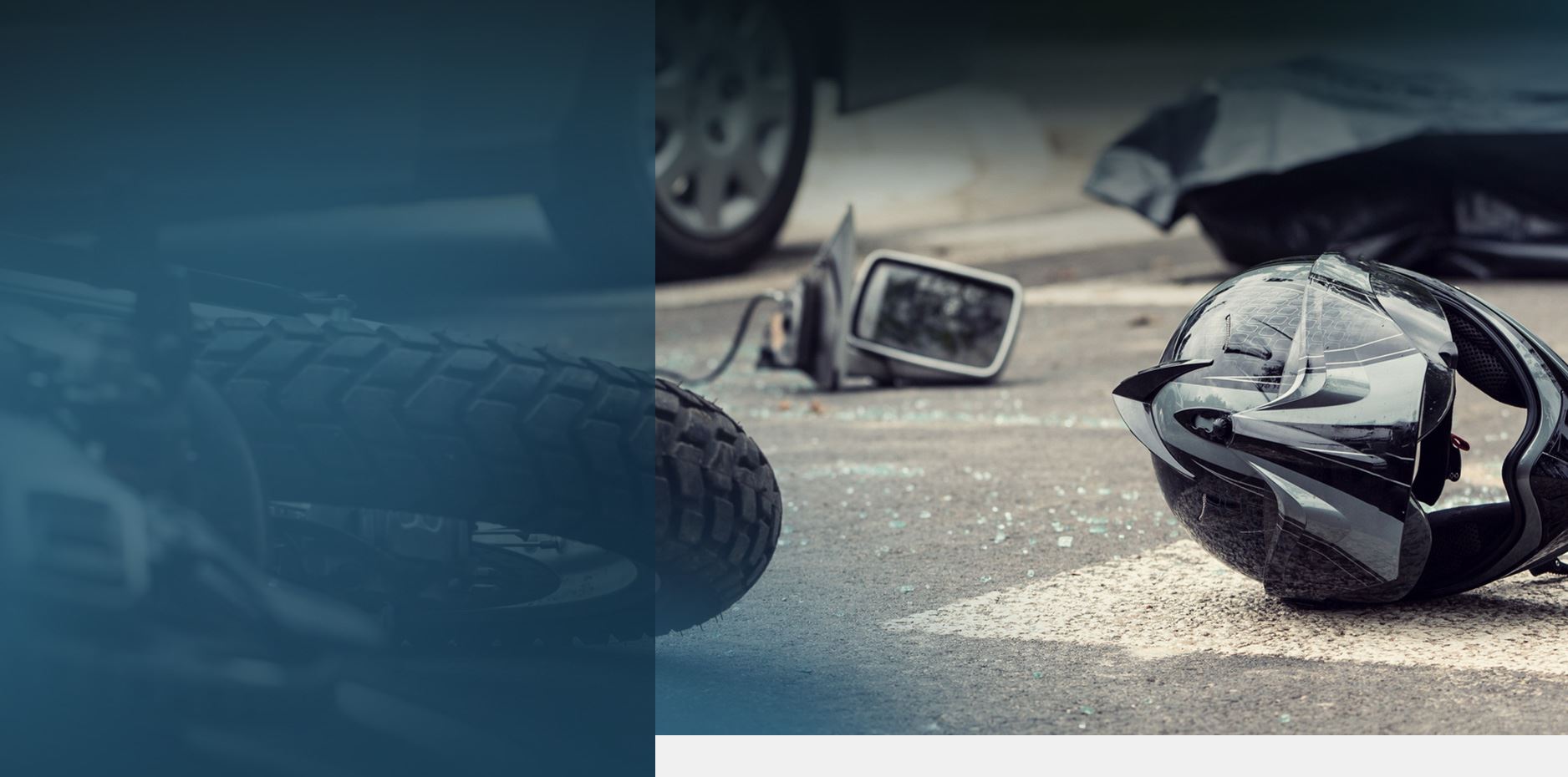 Motorcycle Accidents Client Focused. Trial Ready. Billions Won.
Los Angeles Motorcycle Accident Attorneys
Helping Recover Damages for Motorcyclists Injured in Crashes
In 2018, nearly 5,000 motorcyclists in the United States were killed in crashes, according to government statistics. Los Angeles, a city known for its traffic congestion, sees hundreds of motorcyclists injured or killed each year.
If you or a family member were in a motorcycle accident, you may be able to file a legal claim to obtain compensation from the party who caused the crash. The Los Angeles motorcycle accident lawyers at Wisner Baum want to protect your rights and fight to maximize your compensation.
With years of experience representing auto accident victims, our seasoned trial lawyers provide clients with aggressive representation in court. To date, our efforts have earned more than $4 billion in verdicts and settlements for our clients across all areas of practice.
Call Wisner Baum at (855) 948-5098 to begin. Our motorcycle accident lawyers in Los Angeles offer free initial consultations and same-day appointments.
Who Can File a Los Angeles Motorcycle Accident Claim?
Sadly, no one on the road is completely safe from accidents; though this is especially true for motorcyclists in the Los Angeles area. According to data from the National Highway Transportation Safety Administration (NHTSA), the number of traffic deaths in urban areas, including LA, has increased. Among the fatal transportation accident types that have risen since 2009 in urban areas, bicyclist deaths have increased 48%, pedestrian deaths have increased 69%, and motorcycle deaths have increased 33%.
Due to the limited amount of protection that a motorcycle provides to its rider, crashes often lead to catastrophic, life-changing injuries, or even death. If the other party engaged in one or more of the following acts of negligence and caused you injury, you likely have grounds for a claim:
Ignoring traffic laws and regulations
Cutting off a motorcyclist
Tailgating a motorcyclist
Driving under the influence of alcohol or drugs
Failing to signal while turning or merging
Failing to check for motorcyclists when changing lanes
Opening a car door in the middle of traffic
Passing a motorcyclist without leaving sufficient room
If your accident was caused by one of these acts, speak to an attorney to see if filing a lawsuit is a viable option for you. An accident attorney may be able to recover damages for any injuries sustained, the cost of medical treatment, pain and suffering, emotional distress, psychological damage, lost wages due to time missed from work, property damage, and more.
If you are still unsure whether your injury warrants a claim, some common examples are:
Orthopedic injuries
Amputations or partial limb loss
Short- or long-term disability
Why Work with a Motorcycle Crash Attorney?
While motorcycle crash victims may file a claim with their insurance provider or in the civil justice system on their own, working with an experienced attorney can help level the playing field to ensure they receive the maximum compensation available. At-fault parties will use all of the resources at their disposal to limit their liability, so accident victims are best served with legal representation that understands the complexities of each unique case. Furthermore, an experienced motorcycle crash lawyer will investigate the crash and determine if other parties may be liable, thus increasing the potential value of the case.
When it comes to choosing a lawyer, there are many factors that set Wisner Baum apart from the competition, including the following:
Highly regarded among industry organizations: Super Lawyers®, the National Trial Lawyers: Top 100, the Multi-Million Dollar Advocates Forum®, U.S. News — Best Lawyers®, and others have all recognized us for our skilled legal work.
Skilled negotiators with a proven track record of success: Our Los Angeles lawyers have advocated for injured motorcyclists for decades and have effectively recovered many multi-million-dollar verdicts and settlements.
Extensive experience in a range of practice areas: We have represented clients in a variety of related practice areas, including truck accident litigation, bus crash litigation, and others, which means that we can effectively apply our adaptive legal knowledge to help strengthen your case's strong points.
Respected by peers and former clients: Our attorneys are well-respected by our peers and past clients, and we would be happy to provide you with references so you can hear for yourself how we have helped countless clients seek justice.
To experience the peace of mind that comes with having an award-winning legal team in your corner, work with Wisner Baum.
Fill out an online form to contact our Los Angeles motorcycle accident lawyers. Se habla español.
Can I File a Motorcycle Accident Lawsuit if I Was Partially at Fault?
California law also allows for motorcycle accident lawsuits to be pursued even if the cyclist may have been partially at fault for the accident. The courts may consider these cases based on what is called "comparative negligence." This simply means that those partially at fault can file a claim, though any awarded compensation may be reduced according to percentage of responsibility.
Please note: Any awarded compensation will be scaled back based on your percentage of fault, which will be determined by the judge and jury overseeing your claim.
$2.0 Billion Verdict Personal Injury

In May of 2019, the jury in the case of Pilliod et al. v, Monsanto Company ordered the agrochemical giant to pay $2.055 billion in damages to the plaintiffs, Alva and Alberta Pilliod, a Bay Area couple in their 70s.

$105 Million Settlement Pharmaceutical Settlement

Wisner Baum obtained $105 million on behalf of multiple clients involved in a pharmaceutical negligence case.

$18 Million Settlement Whistleblower Settlement

Wisner Baum secured an $18 million settlement against the Boeing Company for overcharging the U.S. government on aircraft maintenance.

$17.5 Million Settlement A Major US Plane Crash

Wisner Baum obtained a $17.5 million settlement on behalf of a client who was killed in a major U.S. plane crash.

$15 Million Settlement Truck Accident

Our firm successfully negotiated a $15 million catastrophic injury settlement for our clients. The case stemmed from a Southern California accident involving a commercial truck and a pedestrian. Client-Focused Representation
REVIEWS & TESTIMONIALS
We believe our track record speaks for itself. But you don't have to take our word for it. See what our clients have to say about working with us.
"I Can't Imagine a Better Law Firm"

Multiple lawyers recommended Wisner Baum to me and I have been consistently impressed with the quality of their work.

- Best Law Firms Survey

"They Are About Changing the Systems..."

Wisner Baum are not only amazing attorneys but more importantly, they are activists. They are about changing the systems which got us into trouble in the first place. They understand their role in the process of making change.

- Kim Witczak

"Top Legal Minds in the Country"

The Wisner Baum firm has some of the top legal minds in the country; they are driven, determined, trustworthy, ethical and passionate.

- From Best Lawyers® Best Law Firms

"Diligent & Professional Representation"

Thanks to your efforts I was able to recover from a tragic experience and turn my life around for the best.

- W.T.

"Our Best Interest Was Always Number One on Your List"

A special thank you to your Spanish-speaking staff for the extra effort put into this case. The language barrier was never a problem, and we are so very thankful to them. Your name holds much respect in our family.

- G.C. & C.C

"We Have Never Met a More Wonderful Group of People"

It is obvious that the people at Wisner Baum believe in what they do. And that you all really care about your clients.

- The B. Family

"They Worked Very Hard and Kept in Contact, Which Is Very Important to Me"

I appreciate that you care about how I feel and that you take time to use your talents to ensure your every contact with me is warmly professional.

- A.D.B.

"Your Expertise in This Field Gave Me the Utmost Trust and Confidence"

I wanted a fair settlement within an appropriate time frame, and without any public scrutiny. With your hard work and dedication, we were able to achieve those goals.

- T.O.