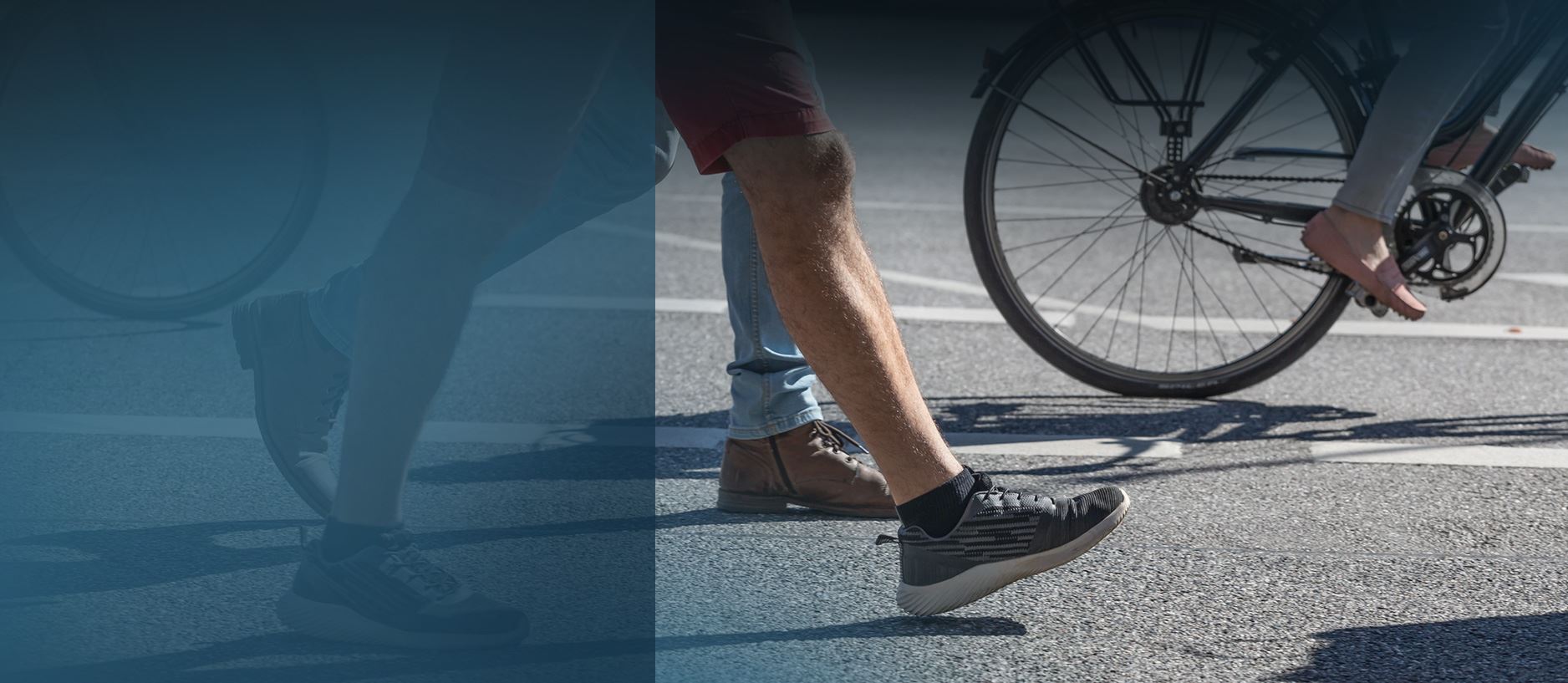 Bicycle Accidents Client Focused. Trial Ready. Billions Won.
Los Angeles Bicycle Accident Lawyers
Advocating for Injured Bicyclists Against Carelessness
In the United States, bicycle safety remains a huge issue when it comes to motor vehicle drivers willingness to share the road. Awareness initiatives, safety campaigns, and the implementation of bicycle lanes in some high-traffic areas are great steps forward, yet 854 bicyclists were killed as a result of motor vehicle crashes in 2018.
If you were injured in a Los Angeles bicycle accident, or if you lost a family member in a bicycle crash, you may be able to pursue compensation for medical bills, lost wages, pain and suffering, and other damages by filing a personal injury or wrongful death lawsuit. Our attorneys at Wisner Baum can help you take legal action; we will fight to maximize your claim and prevent the same negligence from hurting others.
To begin, call our Los Angeles bicycle accident attorneys today at (855) 948-5098.
Does My Injury Qualify for a Bicycle Accident Claim?
If your injury was caused by the negligence of another, it is likely that your injury qualifies for a legal claim.
Injuries that bicyclists frequently file a claim for include:
Road rash
Orthopedic injuries
Lost limbs
Internal organ damage or hemorrhaging
Broken bones
Partial or full paralysis
In the worst scenarios, a bicycle accident may result in death. Roughly 2% of fatal crashes each year involve bicyclists, according to data from the Insurance Institute for Highway Safety. While child bicycle accident fatalities have declined over the years, deaths among cyclists age 20 and older have tripled since the 1970s.
If your spouse, child, family member, or another loved one was killed due to someone else's negligence, you can file a claim for wrongful death to seek justice. We understand that this cannot make up for your loss, but it can help you find closure by holding them legally responsible and preventing them from harming others.
What Are Common Causes Bike Accidents in Los Angeles?
Some of the most common examples of negligence committed by motor vehicle drivers include:
Failing to provide cyclists with adequate space to maneuver
Speeding
Not looking when making a turn
Failing to yield
Running a stop sign or a red light
There are many other scenarios that can lead to an accident, which is why it is critical for drivers to be aware of bicyclists on the road.
Los Angeles Bicycle Laws
In Los Angeles and the rest of the state of California, bicyclists have the same rights and responsibilities as motor vehicle drivers, per the law. As such, cyclists are entitled to the same level of care as other drivers on the road.
California law also allows for bicycle accident lawsuits to be pursued even if the cyclist may have been partially at fault for the accident. The courts may consider these cases based on what is called "comparative negligence." This simply means that those partially at fault can file a claim for compensation, although any awarded compensation may be reduced according to their percentage of responsibility.
Proud Advocates for Injured Bicyclists
At Wisner Baum, we are passionate bicycle safety advocates with a track record of success litigating cases on behalf of victims and their families. If you sustained serious injuries in a bicycle accident involving a car, bus, or truck, it is important that you speak with an experienced bike accident attorney as soon as you are able.
Our lawyers are recognized throughout the nation by multiple industry organizations, from the Elite Trial Lawyers and the National Trial Lawyers to U.S. News — Best Lawyers® and the National Board of Trial Advocacy. Put experienced lawyers on your side.
Fill out an online form today to get in touch with a Los Angeles bicycle accident lawyer at Wisner Baum.
Should I Hire a Los Angeles Bicycle Accident Attorney?
When choosing legal representation, it is vital that you give the decision proper consideration. Your case will be best served by retaining a personal injury attorney with experience litigating and winning bicycle accident cases.
Wisner Baum lawyers have decades of experience representing victims of bike accidents. Our Los Angeles firm has resolved a high volume of transportation accident cases since we started our practice in 1985, including claims for cyclists.
Across all areas of practice, Wisner Baum has earned more than $4 billion in verdicts and settlements. Although no lawyer can promise a favorable resolution of any claim, our reputation highlights our acumen in the courtroom and the dedication we have to our clients. Put simply, we know what it takes to win big cases.
$2.0 Billion Verdict Personal Injury

In May of 2019, the jury in the case of Pilliod et al. v, Monsanto Company ordered the agrochemical giant to pay $2.055 billion in damages to the plaintiffs, Alva and Alberta Pilliod, a Bay Area couple in their 70s.

$105 Million Settlement Pharmaceutical Settlement

Wisner Baum obtained $105 million on behalf of multiple clients involved in a pharmaceutical negligence case.

$18 Million Settlement Whistleblower Settlement

Wisner Baum secured an $18 million settlement against the Boeing Company for overcharging the U.S. government on aircraft maintenance.

$17.5 Million Settlement A Major US Plane Crash

Wisner Baum obtained a $17.5 million settlement on behalf of a client who was killed in a major U.S. plane crash.

$15 Million Settlement Truck Accident

Our firm successfully negotiated a $15 million catastrophic injury settlement for our clients. The case stemmed from a Southern California accident involving a commercial truck and a pedestrian. Client-Focused Representation
REVIEWS & TESTIMONIALS
We believe our track record speaks for itself. But you don't have to take our word for it. See what our clients have to say about working with us.
"I Can't Imagine a Better Law Firm"

Multiple lawyers recommended Wisner Baum to me and I have been consistently impressed with the quality of their work.

- Best Law Firms Survey

"They Are About Changing the Systems..."

Wisner Baum are not only amazing attorneys but more importantly, they are activists. They are about changing the systems which got us into trouble in the first place. They understand their role in the process of making change.

- Kim Witczak

"Top Legal Minds in the Country"

The Wisner Baum firm has some of the top legal minds in the country; they are driven, determined, trustworthy, ethical and passionate.

- From Best Lawyers® Best Law Firms

"Diligent & Professional Representation"

Thanks to your efforts I was able to recover from a tragic experience and turn my life around for the best.

- W.T.

"Our Best Interest Was Always Number One on Your List"

A special thank you to your Spanish-speaking staff for the extra effort put into this case. The language barrier was never a problem, and we are so very thankful to them. Your name holds much respect in our family.

- G.C. & C.C

"We Have Never Met a More Wonderful Group of People"

It is obvious that the people at Wisner Baum believe in what they do. And that you all really care about your clients.

- The B. Family

"They Worked Very Hard and Kept in Contact, Which Is Very Important to Me"

I appreciate that you care about how I feel and that you take time to use your talents to ensure your every contact with me is warmly professional.

- A.D.B.

"Your Expertise in This Field Gave Me the Utmost Trust and Confidence"

I wanted a fair settlement within an appropriate time frame, and without any public scrutiny. With your hard work and dedication, we were able to achieve those goals.

- T.O.