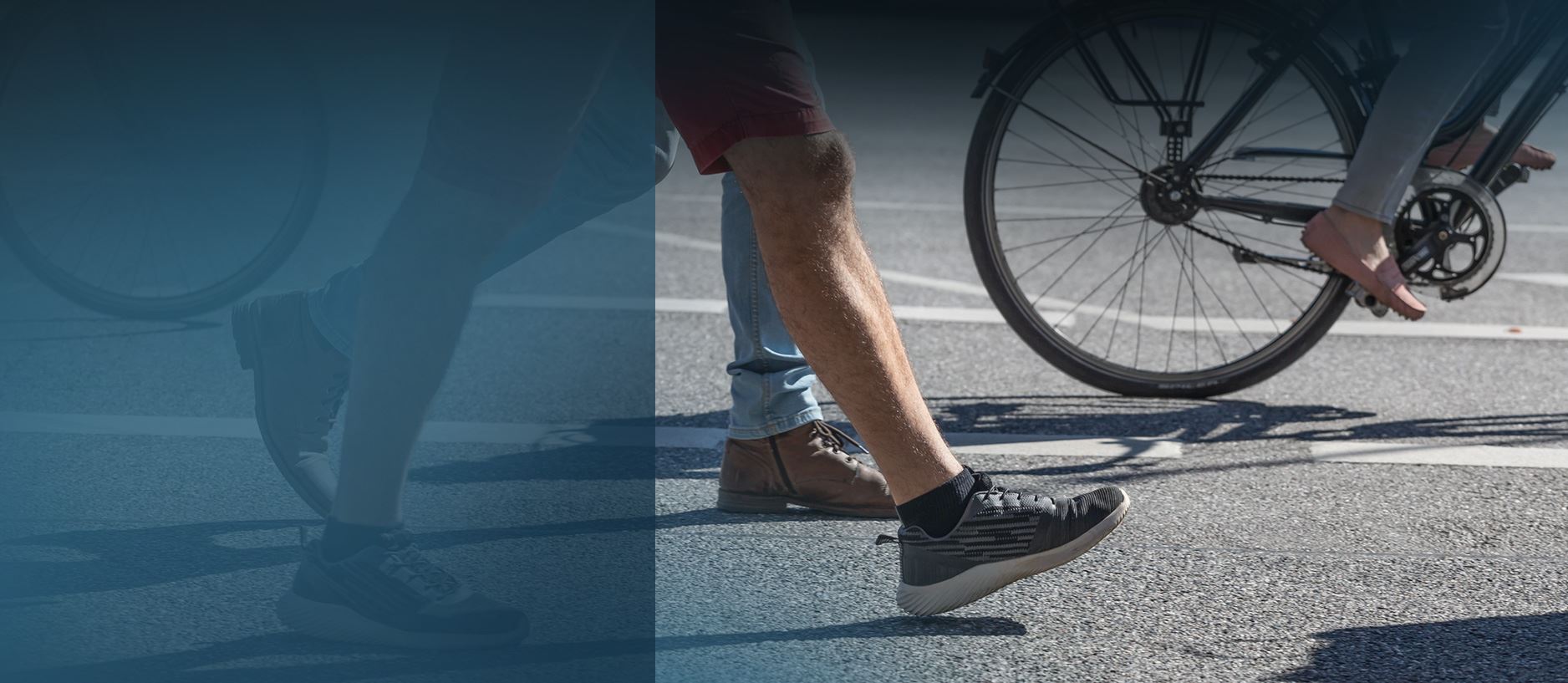 Pedestrian Accidents Client Focused. Trial Ready. Billions Won.
Los Angeles Pedestrian Accident Lawyers
Advocating for Safer Streets and Pedestrian Safety
Although you may have heard the popular saying, "No one walks in LA," the truth is that many areas of Los Angeles County are brimming with pedestrians. Santa Monica, Atwater Village, Chinatown, Koreatown, Downtown LA, Venice Beach, Hollywood, Pasadena, and Beverly Hills all have walkable areas that offer great shopping, food, and entertainment to LA residents and tourists alike. However, cars are not absent from these places, which means that pedestrian accidents do occur.
If you were injured in a pedestrian accident in Los Angeles, hold the at-fault party accountable for their negligence by filing a legal claim. As an LA-based firm, Wisner Baum is deeply committed to improving the safety of the roads and streets of the many cities that make up this beautiful county. Our legal team regards each and every client as a close friend, fighting tooth and nail for their justice; this has resulted in us winning more than $4 billion in jury awards and settlements for injured individuals.
Hire an experienced team of Los Angeles pedestrian accident attorneys. Call Wisner Baum today at (855) 948-5098.
Pedestrian Accident Statistics
As the National Highway Traffic Safety Administration (NHTSA) puts it, everyone is a pedestrian at some point in the day. Even if you drive to the grocery store, you are still considered a pedestrian for the time it takes to walk from your car to the entrance of the store.
According to the NHTSA's statistics, there was a 3% increase in the United States' pedestrian accident fatalities in 2018, the last year for which data is available. In total, this comes out to more than 6,200 pedestrian deaths for that year — the most since 1990.
At Wisner Baum, we are committed to combating this harrowing data by representing injured pedestrians and their loved ones in injury claims. In addition to fighting for their legal compensation, we also make sure to incorporate the importance of road safety in our court arguments to prevent other pedestrians from suffering the same fate.
What Rights Do I Have as a Pedestrian in Los Angeles?
No matter which LA neighborhood you live in, you have certain rights as a pedestrian, including the right of way in unmarked or marked crosswalks, as well as the right to use a sidewalk without being obstructed by a vehicle. This is because, should an accident occur between a vehicle and a pedestrian, the pedestrian is at a much higher risk of being injured than anyone in the involved passenger car.
Please note that pedestrians are still legally required to practice caution and conduct themselves in a safe manner when on the street. For example, a pedestrian may be considered liable for an accident if they attempt to cross the street unlawfully and unsafely, such as without giving a driver enough time to stop their vehicle.
Common Types of Driver Negligence
There are myriad injuries that could result from a pedestrian accident, from broken bones to brain injuries, to lost limbs, and more. There are just as many types of driver negligence that could have led to the accident; for example, our lawyers have prosecuted drivers for the following acts:
Driving while intoxicated
Speeding or other types of reckless driving
Violating traffic laws
Failing to check mirrors while switching lanes
Attempting an unsafe right- or left-hand turn
Failing to check for pedestrians in parking lots
Pedestrian Accidents Due to Unsafe Premises
If the accident did not involve a motor vehicle and instead resulted from the presence of property hazards, you could file a premises liability claim against the property owner. Per law, property owners are required to keep their premises in a condition that is safe for all lawful guests, occupants, and visitors.
Several examples of property hazards that could cause injury to a pedestrian include:
Unsafe overhangs
Uneven sidewalks and entryways
Lack of a wheelchair-accessible ramp
Poorly maintained steps leading up to the entrance
Contact our Los Angeles pedestrian accident lawyers online or at (855) 948-5098 to arrange a free consultation.
Trust a Wisner Baum Lawyer
When choosing an attorney team to work with, it is important to consider the reputation of the entire firm in addition to the primary attorney you plan to work with. In fact, no matter what attorney you work with, it can be expected that they will often consult their colleagues on a case to ensure that all bases are covered. Thus, you should only hire an attorney if you are pleased with their firm's work.
Wisner Baum has a notable reputation of success as evidenced by our past case results, client reviews, and acclaim from the National Trial Lawyers, U.S. News — Best Lawyers®, and Super Lawyers®, among others. We are wholly dedicated to fighting on behalf of injured plaintiffs and have done so for nearly 40 years. Whether the party we are representing you against is another individual, an insurance company, or a large corporation, you can trust that our lawyers will not back down when your rights are on the line.
$2.0 Billion Verdict Personal Injury

In May of 2019, the jury in the case of Pilliod et al. v, Monsanto Company ordered the agrochemical giant to pay $2.055 billion in damages to the plaintiffs, Alva and Alberta Pilliod, a Bay Area couple in their 70s.

$105 Million Settlement Pharmaceutical Settlement

Wisner Baum obtained $105 million on behalf of multiple clients involved in a pharmaceutical negligence case.

$18 Million Settlement Whistleblower Settlement

Wisner Baum secured an $18 million settlement against the Boeing Company for overcharging the U.S. government on aircraft maintenance.

$17.5 Million Settlement A Major US Plane Crash

Wisner Baum obtained a $17.5 million settlement on behalf of a client who was killed in a major U.S. plane crash.

$15 Million Settlement Truck Accident

Our firm successfully negotiated a $15 million catastrophic injury settlement for our clients. The case stemmed from a Southern California accident involving a commercial truck and a pedestrian. Client-Focused Representation
REVIEWS & TESTIMONIALS
We believe our track record speaks for itself. But you don't have to take our word for it. See what our clients have to say about working with us.
"I Can't Imagine a Better Law Firm"

Multiple lawyers recommended Wisner Baum to me and I have been consistently impressed with the quality of their work.

- Best Law Firms Survey

"They Are About Changing the Systems..."

Wisner Baum are not only amazing attorneys but more importantly, they are activists. They are about changing the systems which got us into trouble in the first place. They understand their role in the process of making change.

- Kim Witczak

"Top Legal Minds in the Country"

The Wisner Baum firm has some of the top legal minds in the country; they are driven, determined, trustworthy, ethical and passionate.

- From Best Lawyers® Best Law Firms

"Diligent & Professional Representation"

Thanks to your efforts I was able to recover from a tragic experience and turn my life around for the best.

- W.T.

"Our Best Interest Was Always Number One on Your List"

A special thank you to your Spanish-speaking staff for the extra effort put into this case. The language barrier was never a problem, and we are so very thankful to them. Your name holds much respect in our family.

- G.C. & C.C

"We Have Never Met a More Wonderful Group of People"

It is obvious that the people at Wisner Baum believe in what they do. And that you all really care about your clients.

- The B. Family

"They Worked Very Hard and Kept in Contact, Which Is Very Important to Me"

I appreciate that you care about how I feel and that you take time to use your talents to ensure your every contact with me is warmly professional.

- A.D.B.

"Your Expertise in This Field Gave Me the Utmost Trust and Confidence"

I wanted a fair settlement within an appropriate time frame, and without any public scrutiny. With your hard work and dedication, we were able to achieve those goals.

- T.O.