Client Focused. Trial Ready. Billions Won.
Top legal publications have recognized Wisner Baum for notable verdicts and settlements across several areas of practice:
Largest California Product Liability Jury Verdicts Two Years in a Row 2018-2019
Top 10 National Jury Verdicts Two Years in a Row 2018-2019
Top 10 Most Impressive Plaintiff Verdicts 2019
Top 20 National Jury Verdicts 2018
Top 10 Illinois Product Liability Jury Verdicts 2017
Top 10 Illinois Wrongful Death Jury Verdicts 2017
Top 50 Illinois Jury Verdicts 2017
Top 100 National Wrongful Death Jury Verdicts 2017
In 2019, our firm and co-counsel won a historic $2 billion Roundup verdict against Monsanto (now Bayer), the ninth-largest personal injury jury verdict in United States history and the largest jury verdict in the state of California in 2019.
Our personal injury attorneys represented Alberta and Alva Pilliod, a couple who sprayed Monsanto's Roundup weed killer for 30 years on their properties. The jury determined that Roundup exposure caused the couple to develop non-Hodgkin lymphoma and that Monsanto failed to warn of the cancer risk. This was the third successful verdict against Monsanto concerning Roundup. Our firm served on the trial team in all three of the first Monsanto trials, and the firm's vice president, R. Brent Wisner, served as co-lead trial counsel in all but one of the first three trials.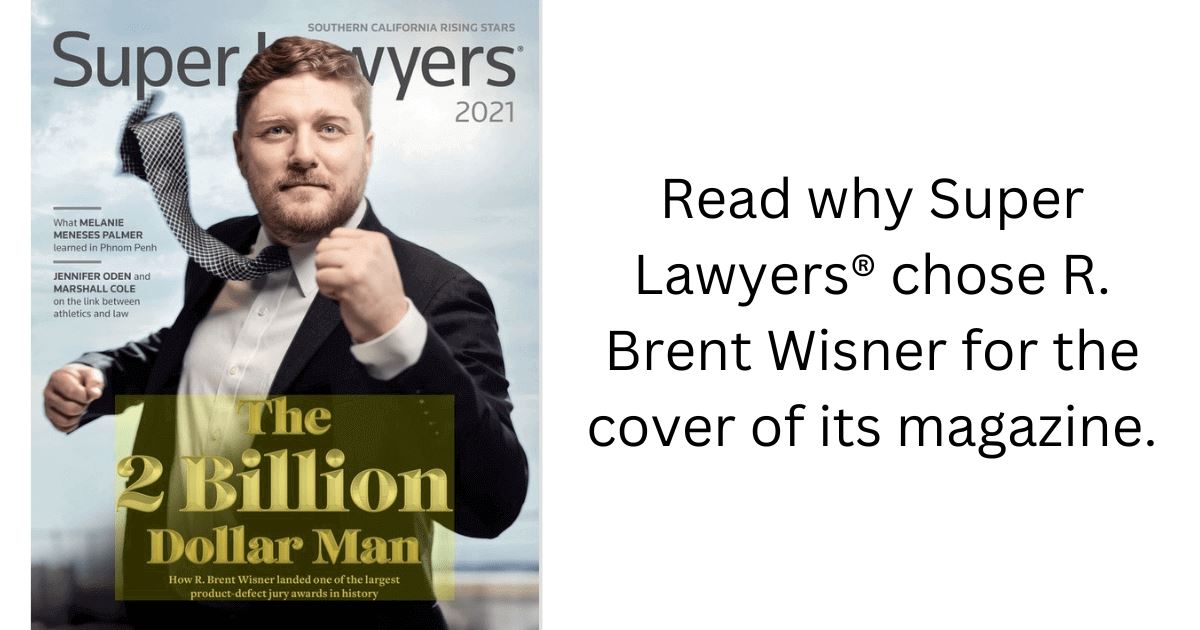 In recognition of the verdict in Pilliod et al. v. Monsanto Co., R. Brent Wisner, co-lead trial counsel for the Pilliods, was awarded 2019 Civil Plaintiff Trial Lawyer of the Year by the National Trial Lawyers and ALM, and listed in the Top 40 Under 40 Attorneys in California by the Daily Journal, Winning Litigators by The National Law Journal and America's 50 Most Influential Trial Lawyers by Trial Magazine and The National Law Journal. Our firm was also a finalist in 2019 for Elite Trial Lawyers Mass Torts Law Firm of the Year for the third year in a row.
In 2018, our firm and co-counsel won a $289 million verdict against Monsanto on behalf of Dewayne "Lee" Johnson. In recognition of our work, the National Trial Lawyers Top 100 awarded our trial team and co-counsel with "2019 Trial Team of the Year." Additionally, The National Law Journal and Trial Lawyer Magazine named trial attorney R. Brent Wisner, co-lead trial counsel on the Johnson case, one of "America's Most Influential Trial Lawyers" and the Daily Journal recognized Brent in the "Daily Journal Top 100 Lawyers for 2018."
The National Law Journal and ALM Media also awarded our firm two years in a row with the distinguished honor of "Elite Trial Lawyers" first place winner for Pharmaceutical Litigation based on our firm's work in a high-profile generic Paxil suicide case against drug manufacturer GlaxoSmithKline. The jury verdict in the case of Dolin v. GlaxoSmithKline earned our firm top verdict recognition for the state of Illinois and the nation for 2017.
Our Accident Attorneys Win Big Cases Against Big Companies
Our success in the courtroom and at the negotiating table is not limited to mass torts and pharmaceutical product liability cases. Since 1985, our accident attorneys have secured numerous 7+ figure settlements and verdicts on behalf of clients injured or killed in transportation accidents, including truck crashes, bus crashes, train accidents, aviation accidents, and boating accidents.
Thousands of clients from across the country have entrusted us to represent their legal interests in major litigation. We have earned verdicts and/or settlement agreements in cases against the following companies (among many others):
Aviation companies: Alaska Air, American Airlines, Beechcraft, Bell Helicopter Co., Boeing, Cessna (A Textron Company), Delta, JetBlue, Piper, Robinson Helicopter Co., Southwest Airlines, United, and US Airways.
Ground transportation companies: Amtrak, CSX, FedEx, Ford Motor Co., Greyhound, J.B. Hunt, Swift Transportation (Knight-Swift), UPS, Walmart, and XPO Logistics.
Consumer product companies: Beech-Nut, Bayer Corporation, Gerber, Johnson & Johnson, Monsanto Co., and Walmart.
Pharmaceutical and medical device companies: A.H. Robins Company, Alpha Therapeutic, Armour Pharmaceutical Co., Baxter Health Care Corp, Boehringer Ingelheim, Cutter Biologicals, Eli Lilly, Forest Labs, GlaxoSmithKline (GSK), Medtronic, Merck, Pfizer, Sanofi, Takeda, and Wyeth.
Our past performance, verdicts and settlements do not constitute a guarantee, warranty, or prediction regarding the outcome of future cases. Past results obtained or overall performance must be confined to that particular case, its factual and legal circumstances and legal surroundings. Every case is different and must be judged on its own merits.