Is Glyphosate Banned in Europe?
As you can see above, some individual countries have introduced legislation to ban or restrict private sales of glyphosate, or restrictions on spraying glyphosate in public spaces. As for the whole of the European Union (EU), glyphosate is not currently banned.
However, EU public opinion is leaning in favor of a glyphosate ban. In a 2016 poll of the five largest EU countries, over 66 percent of respondents said they favored a glyphosate ban. Over 1.3 million people signed a petition in 2017 calling for a European ban of glyphosate. That public pressure caught the attention numerous Members of European Parliament, who have cited the petition as the foundation for instituting an EU ban.
In November of 2017, EU member states narrowly voted to relicense glyphosate for a period of five years. The vote was not without controversy; German Agriculture Minister Christian Schmidt (CSU) entered a 'yes' vote for his country without consulting with German Chancellor Angela Merkel (CDU) on the matter. His unilateral vote disregarded Germany's Environment Minister, who had instructed Schmidt to abstain from voting. With Germany's vote, the measure narrowly passed and glyphosate received a new license.
Following the scandal, six EU countries sent a letter to the European Commission, calling for an exit plan for glyphosate. France and Italy have stated they will carry out glyphosate bans by 2020, and Germany announced in 2018 that it will also issue a glyphosate ban.
In January of 2019, a European Parliament report found that EU regulators based their decision to relicense glyphosate on an assessment that was plagiarized from a coalition of pesticide companies, including Monsanto.
The EU Parliament report investigated claims that Germany's Federal Institute for Risk Assessment (BfR) copied and pasted large sections of a pesticide industry assessment of glyphosate literature in its own assessment. The BfR report concluded that classifying glyphosate as a carcinogen is not warranted. The European Food Safety Authority (EFSA), which relied upon the BfR report, also found that glyphosate is safe for humans and the environment.
Following the release of the EU Parliament report, an EU court ruled that EFSA should publicize glyphosate studies used for its assessments.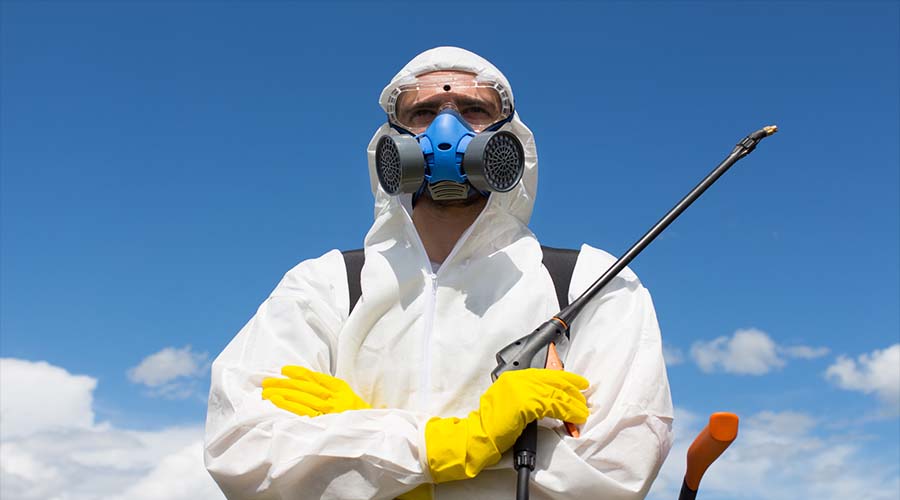 Is Glyphosate Banned in the United States?
Despite the IARC report's 2015 conclusion that glyphosate is a probable human carcinogen, the U.S. Environmental Protection Agency (EPA) maintains that glyphosate is not likely to be carcinogenic to humans. As such, glyphosate is not banned by the U.S. government; Roundup and other glyphosate-based herbicides are readily available for purchase throughout the country.
However, the EPA is a captured agency, meaning it is dominated by the industry it presumably regulates. Internal company documents now public in the Monsanto Papers demonstrate that EPA prioritizes the interests of corporations like Monsanto or political groups over the interests of the public it is charged with protecting.
"The EPA has got it wrong on glyphosate. We have study after study after study showing that it in fact, does cause a specific type of cancer called lymphoma. And we see it happening in thousands and thousands of people across the country. Currently, this Administration and this EPA will not take action against Monsanto. We've seen the internal documents, the text messages, the emails between senior EPA officials and Monsanto employees. And the simple fact is they know that this EPA will not take adverse action against them. It is a travesty that this truth about it causing cancer and this awareness that we are trying to raise has to be done in the context of litigation. We only exist, these lawsuits only exist, because the EPA has failed the American public for 45 years and Monsanto is allowed to get away with reckless conduct with, essentially, impunity…this agency essentially does not work for the American public but works for industry. The fact that the White House is telling Monsanto, 'We have your back.' I mean this just tells us that we are going to have to keep fighting this fight and that we are not going to get any support or help from the public agencies that, ironically, are supposed to be protecting the public health." – Brent Wisner, Roundup Cancer Attorney
Bayer Will Stop Selling Glyphosate in U.S. Lawn & Garden Market Starting in 2023
In July of 2021, Bayer announced that it will stop selling its glyphosate-based Roundup™ herbicides in the United States Lawn & Garden residential market beginning in 2023. The announcement was a welcomed victory for consumer advocates who have long fought to remove glyphosate from store shelves.
Is Glyphosate Banned in California?
California has not issued a statewide ban on glyphosate. However, on July 7, 2017, California became the first state in the nation to issue a warning on glyphosate by adding the chemical to the state's Proposition 65 list of chemicals and substances known to cause cancer.
California's decision to warn consumers about glyphosate was pursuant to the requirements of the Safe Drinking Water and Toxic Enforcement Act, better known as California Proposition 65, a ballot initiative approved by voters in 1986 to address toxic chemical exposure concerns. Prop 65 requires California to publish a list of chemicals known to cause cancer, birth defects or other reproductive harm.
In 2019, University of California President Janet Napolitano announced that glyphosate would be temporarily banned on all 10 UC campuses, citing "concerns about possible human health and ecological hazards, as well potential legal and reputational risks associated with this category of herbicides."
U.S. Cities to Restrict or Ban Glyphosate
Alaska
Anchorage, Alaska – Passed an ordinance that establishes pesticide-free policies and restrictions for city parks, public lands, and other property.
Skagway, Alaska – Signed an ordinance that prohibits the sale and use of persistent herbicides (including glyphosate) on public and private property.
Arizona
California
Belvedere, California – Passed municipal ordinance initiating Integrated Pest Management program that restricts toxic pesticide use and urges pesticide use as last resort.
Carlsbad, California – The City Council voted unanimously to adopt a policy that makes organic pesticides the preferred method for killing weeds. "Asked to choose between aesthetics and public health…I'm going to choose public health every time," said Councilwoman Cori Schumacher.
Corte Madera, California – Passed ordinance calling for Integrated Pest Management (IPM) program restricting highly toxic pesticides, while also urging for pesticide use to be a last resort.
Davis, California – In February of 2020, the Davis City Council voted to officially end the use of glyphosate-based herbicides like Roundup.
Fairfax, California – Passed municipal ordinance restricting use of toxic pesticides on public property in favor of alternative methods.
Greenfield, California – Adopted a resolution to "halt all use of the carcinogenic weed killer Roundup and replace it with 'greener' alternatives."
Orange County, California – OC Parks banned the use of glyphosate on and around playgrounds, picnic shelters, trails and campgrounds. However, glyphosate remains in use on off-trail invasive weeds.
Palo Alto, California – Pest management program calls for Integrated Pest Management that restricts pesticide use in favor of less harmful methods.
Colorado
Connecticut
A growing number of Connecticut towns, including Branford, Cheshire, Granby, Essex, Greenwich, Manchester, Oxford, Pine Grove, Plainville, Roxbury, Watertown, and Woodbridge have adopted bans or restrictions on glyphosate use. The state also has Public Act 09-56 to eliminate the use pesticides in K-8 schools.
Florida
The Florida Fish and Wildlife Conservation Commission ceased using aquatic herbicides, glyphosate chief among them, anywhere in state waters, while the agency gathers public input.
Martin County, Florida – The local government instituted a Roundup ban that applies to all county employees and contractors working on county projects.
Sebastian, Florida –In November of 2019, the city banned all herbicide and pesticide use near storm water for a period of one year. The city also banned glyphosate use near local parks for 120 days.
Stuart, Florida – City commissioners voted to ban glyphosate, calling for an integrated pest control plan that reduces the use of glyphosate with the ultimate goal of eliminating chemicals.
Hawaii
In February of 2018, a series of bills moved ahead in the legislature that would regulate pesticides, including Roundup weed killer.
Hawaii County, Hawaii – A Hawaii County Council committee approved a bill that would prohibit the use of herbicides like Roundup on public parks, roads, bike routes, trails, sidewalks, and elsewhere. The bill passed in December of 2021.
Illinois
Franklin Park, Illinois – Passed resolution promoting an Integrated Pest Management (IPM) policy that restricts highly toxic pesticides and urges for pesticides to be considered as a last resort.
Iowa
Kansas
Maine
In March of 2021, Maine lawmakers proposed a ban on aerial glyphosate spraying in the state's forests. Democratic Senate President Troy Jackson presented the bill, noting "aerial herbicides in the Maine woods benefits the bottom line of large landowners at the expense and well-being of the people living and working in the region." Months later, Governor Janet Mills vetoed the bill.
Dozens of cities and townships in Maine have adopted local ordinances restricting or banning pesticides and herbicides.
Portland, Maine – Banned synthetic pesticides in March of 2019. Private property owners may only use organic treatments on lawns and gardens. No pesticides may be used within 75 feet of a water body or wetland.
South Portland, Maine – Passed a pesticide plan that discourages property owners from using certain pesticides and herbicides.
Maryland
Massachusetts
Eastham, Massachusetts – Local ordinance requires town employees to receive a permit for use of registered pesticides and prohibits the use of highly-toxic pesticides.
Michigan
On April 21, 2021, several Michigan State Senators introduced a bill that would ban the residential use of glyphosate on grass, flower beds, and other ground cover.
Minnesota
Nevada
New Hampshire
Portsmouth, New Hampshire – Passed resolution eliminating the use of toxic pesticides on public property in favor of alternative, organic methods.
New Mexico
New Jersey
New Jersey has State and local ordinances encouraging Integrated Pest Management programs to eliminate or drastically reduce the use of pesticides. At least 15 city school districts and over a dozen other parks and recreation departments in the state have enacted IPM programs.
New York
In January of 2019, New York State Senator Brad Hoylman (27th District) sponsored a bill in the New York State Senate that would prohibit the sale and distribution of products containing glyphosate. Updates on the legislation can be found here.
In July of 2020, New York passed a bill banning the use of glyphosate on all state property. Governor Cuomo signed the legislation in late 2020. The bill will take effect at the end of 2021.
North Carolina
Ohio
Cuyahoga County, Ohio – Local ordinance prohibits the use of pesticides on county-owned land, and established the adoption of an Integrated Pest Management program for county-owned properties.
South Euclid, Ohio – Passed ordinance prohibiting toxic pesticides on public grounds in favor of alternative, organic pest control methods unless permitted by an Environmental Review Board.
Oregon
Pennsylvania
Texas
Denton, Texas – City Council voted to implement an integrated pest management program and restrict the use of glyphosate on city parks, fields and playgrounds.
Vermont
Multiple bills containing restrictions or bans on glyphosate have been introduced in the legislature.
Representative Mari Cordes introduced H. 301, which would ban the sale, use or application of the herbicide glyphosate.
Representative Annmarie Christensen introduced H. 328, an act relating to the use of glyphosate herbicide.
Virginia
Washington
King County, Washington – Passed municipal ordinance initiating an Integrative Pest Management (IPM) program to determine if and how pesticides should be used.
Kitsap County, Washington – Passed measure banning the spraying of glyphosate by workers on county-owned and maintained properties. Glyphosate may only be used on noxious weeds as a tool of last resort.
Olympia, Washington – City passed a resolution to encourage the implementation of an Integrative Pest Management (IPM) program for non-chemical pest control.
Do you know of a glyphosate ban that is not on our list? Contact us today and let us know.