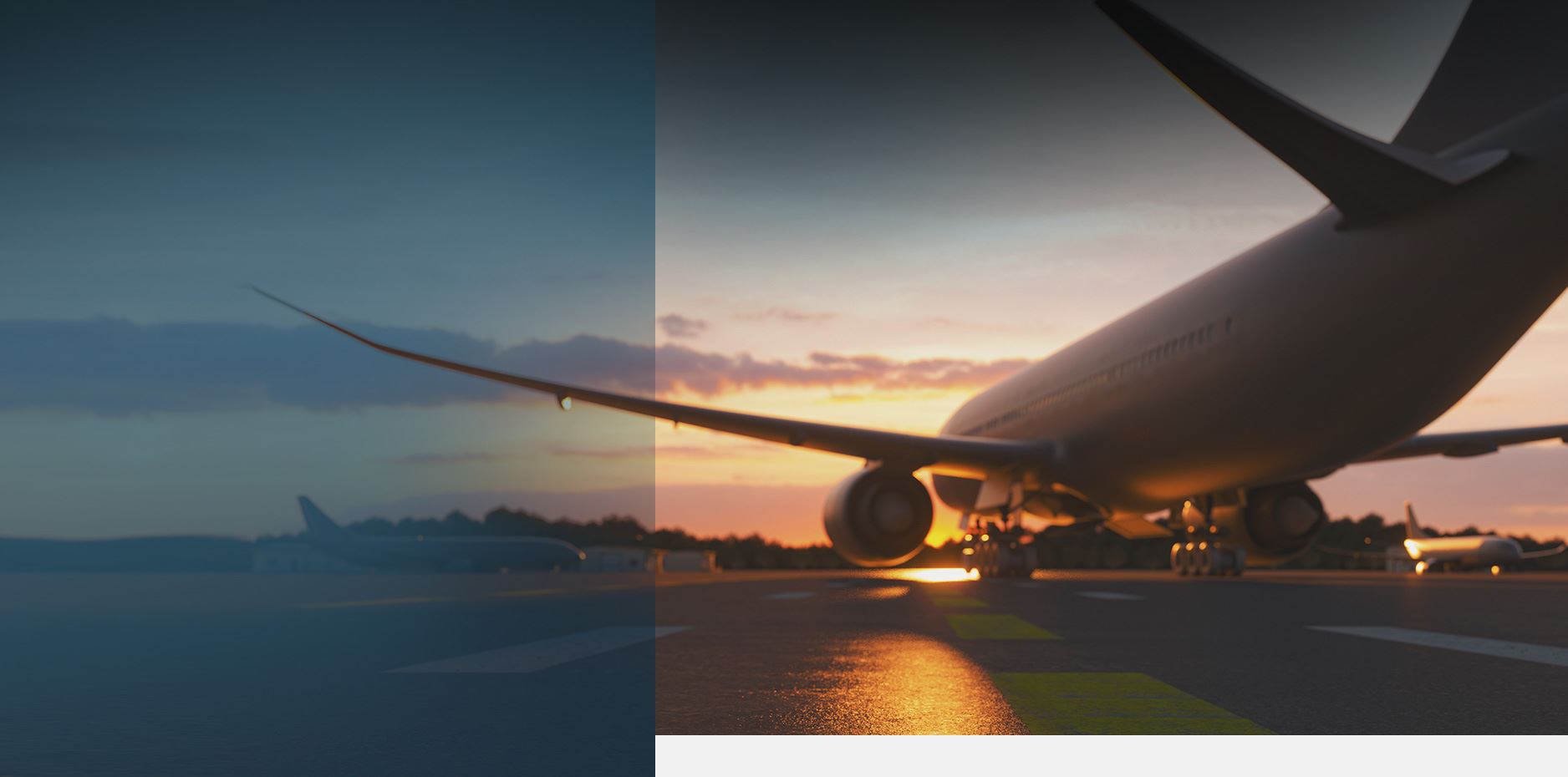 Inflight Injury and Turbulence Client Focused. Trial Ready. Billions Won.
Inflight Injury and Turbulence Attorneys
Helping Victims of Airline Negligence
Air travel is considered by many to be safer than riding in a car or a train, but that doesn't mean airline passengers don't sustain injuries — passengers sustain an inflight injury aboard commercial flights far more often than one might expect. The Federal Aviation Administration (FAA) estimates that roughly 58 people sustain inflight injuries due to turbulence every year. Other people are injured from improperly-stowed baggage falling from overhead bins. In nonfatal accidents, inflight turbulence is the leading cause of injuries to airline flight attendants and passengers.
In some inflight injury cases, the airline, the plane's manufacturer, or even the manufacturer of a defective aircraft part can be held liable. However, inflight injury cases are often complicated, with many different rules governing whether or not victims are eligible to receive monetary relief. In order to give yourself the best chance of recovering the maximum compensation, you need to hire an experienced aviation attorney to represent your claims in an inflight injury lawsuit.
If you have sustained an in-flight injury during a commercial flight, get in touch with an aviation lawyer at Wisner Baum today to discuss your case. Call (855) 948-5098 or fill out this form to set up a free, no-obligation case consultation today.
What Is Turbulence?
Nearly all air travelers have encountered some form of turbulence while flying commercially or otherwise. Most often, turbulence on a flight is mild or moderate. However, there are times when turbulence can become severe enough to cause injuries, including whiplash or even traumatic brain injury (TBI).
Turbulence is air movement that often cannot be seen. It can be caused by a number of different conditions, including cold or warm weather fronts, atmospheric pressure, thunderstorms, jet streams or air around mountains. Turbulence can even occur when weather conditions appear perfectly clear; in fact, the aviation industry calls this phenomenon "Clear Air Turbulence."
Turbulence is considered normal and happens often, but it can nonetheless be dangerous, especially for passengers or flight crew members who are not wearing their seat belts. Under these circumstances, turbulence can cause people to be thrown from their seats without warning.
It is for this reason that the FAA requires passengers to be seated with their seat belts fastened when:
The plane leaves the gate and as it climbs after takeoff
The fasten seat belt sign is illuminated during flight
The plane is landing or moving to the gate
IS TURBULENCE DANGEROUS?
Approximately 58 people in the United States are injured every year by turbulence while not wearing their seat belts.
In nonfatal aviation accidents, turbulence is the leading cause of injuries to airline passengers and flight attendants.
Between 1980 and 2008, U.S. airlines reported 234 turbulence incidents, which resulted in 298 serious injuries and three deaths. Of the serious injuries, 184 were flight attendants and 114 were passengers. At least two of the three reported deaths involved passengers who were not wearing their seat belts at a time when the fasten seat belt sign was illuminated.
According to the FAA, two-thirds of turbulence accidents occur at or above 30,000 feet.
Other Common Causes of Inflight Injury
Overhead Bins — According to estimates, 4,500 airline passengers and crew members around the world are injured every year when items fall from overhead storage bins. This amounts to 12 injuries per day.
Food and Beverage Carts — Food and beverage carts can ram into the shoulders, elbows or other body parts, injuring seated passengers. Carts can also hit passengers who are walking through the passenger cabin.
Falls — A number of passengers have sustained broken ankles or other injuries after bumping into improperly stowed objects and falling while moving through the passenger cabin.
Inflight Injury and Negligence
An inflight injury can be anything from a twisted ankle after tripping and falling on the way to the restroom to slamming one's head on the passenger cabin wall during turbulence. Regardless of the severity, passengers should be aware of their rights if and when they sustain an inflight injury.
Depending on how the injury was sustained, you may have a claim against the airline for negligence. If your inflight injury was the result of carelessness or inattention on the part of an airline employee (including pilots, flight attendants, maintenance workers or ground crew members) you may be able to claim negligence in an inflight injury lawsuit.
Airlines have a duty to prevent passenger injuries, and this duty applies to airline employees as well. As "common carriers" (i.e. entities that transport the general public for a fee), airlines and their employees must exercise a high degree of care and take reasonable steps to ensure that passengers are protected from potential harm from the time they step onto the plane until they step off.
Below are a few examples of airline negligence:
Flight crew leaving an object in the middle of an aisle, which causes a passenger to trip and fall.
Flight crew failing to properly close an overhead bin, causing a heavy bag to fall on an unsuspecting passenger.
Flight crew failing to stow bottles in pantry, causing them to fly out during landing and hit a passenger.
Airline failing to properly train personnel.
Airline failing to enact policies to protect passengers.
Failure to illuminate the fasten seat belt sign and simultaneously announce over the P.A. system that the sign has been turned on and that the passengers are required to return to their seats and buckle up.
'Acts of God' and Turbulence
Airlines aren't liable for accidents that occur due to "Acts of God," or unforeseen and unpreventable natural events. Sometimes, turbulence falls into this category, as it is not always possible for an airline to predict and/or anticipate turbulence, especially clear air turbulence.
In the event that a passenger is injured from turbulence at a time when the airline and its employees exercised vigilance to protect those onboard a flight, the airline cannot be held liable.
However, airlines can't use the "Acts of God" defense, for example, if a flight crew could have reasonably foreseen turbulence, but failed to turn on the fasten seat belt sign and warn passengers. In that case, the airline may be liable for resulting in flight injuries.
What Should You Do After Sustaining an Inflight Injury?
With so many people flying across the world every day, it is important to know your rights if you sustain an inflight injury. As noted above, a variety of different parties can be liable in the event that you sustain an inflight injury. Regardless of who or what was responsible for the incident, victims will have to sort through endless legal issues in order to find out whether or not they are entitled to compensation for their injuries.
This is where having an experienced aviation attorney can help. Based in Los Angeles, the inflight injury attorneys at Wisner Baum have a long track record of success handling inflight injury cases. Our firm has litigated against many of the largest airlines in the world, securing compensation for our clients.*
If you would like to speak with an attorney about your inflight injury, please call us at (855) 948-5098 or fill out this form to set up a free case consultation.
Recent Inflight Injury Cases Handled by Wisner Baum
JetBlue Flight 2276 – January 11, 2020 - Engine Explosion
American Airlines Flight 2905 – August 10, 2019 - Inflight Injury
JetBlue Flight 1416 – September 18, 2014 – Inflight Emergency
US Airways Flight 797 – November 8, 2011 – Inflight Incident
Southwest Airlines Flight 812 – April 1, 2011 – Inflight Fuselage Rupture
US Airways Flight 583 – February 24, 2011 – Inflight Incident (Depressurization)
United Airlines Flight 967 – July 20, 2010 – Inflight Turbulence
United Airlines Flight 1028 – January 21, 2008 – Inflight Turbulence
$14 Million Settlement A Major US Plane Crash

Wisner Baum obtained a $14 million settlement for the death of a passenger in a major US plane crash.

$12 Million Settlement Helicopter Crash

Wisner Baum secured a $12 million settlement for a passenger who was injured in a helicopter crash.

$10 Million Settlement A Major Foreign Plane Crash

Wisner Baum obtained a $10 million settlement for the death of a passenger in a major foreign plane crash.

$17.5 Million Settlement A Major US Plane Crash

Wisner Baum obtained a $17.5 million settlement on behalf of a client who was killed in a major U.S. plane crash. Client-Focused Representation
REVIEWS & TESTIMONIALS
We believe our track record speaks for itself. But you don't have to take our word for it. See what our clients have to say about working with us.
"I Can't Imagine a Better Law Firm"

Multiple lawyers recommended Wisner Baum to me and I have been consistently impressed with the quality of their work.

- Best Law Firms Survey

"They Are About Changing the Systems..."

Wisner Baum are not only amazing attorneys but more importantly, they are activists. They are about changing the systems which got us into trouble in the first place. They understand their role in the process of making change.

- Kim Witczak

"Top Legal Minds in the Country"

The Wisner Baum firm has some of the top legal minds in the country; they are driven, determined, trustworthy, ethical and passionate.

- From Best Lawyers® Best Law Firms

"Diligent & Professional Representation"

Thanks to your efforts I was able to recover from a tragic experience and turn my life around for the best.

- W.T.

"Our Best Interest Was Always Number One on Your List"

A special thank you to your Spanish-speaking staff for the extra effort put into this case. The language barrier was never a problem, and we are so very thankful to them. Your name holds much respect in our family.

- G.C. & C.C

"We Have Never Met a More Wonderful Group of People"

It is obvious that the people at Wisner Baum believe in what they do. And that you all really care about your clients.

- The B. Family

"They Worked Very Hard and Kept in Contact, Which Is Very Important to Me"

I appreciate that you care about how I feel and that you take time to use your talents to ensure your every contact with me is warmly professional.

- A.D.B.

"Your Expertise in This Field Gave Me the Utmost Trust and Confidence"

I wanted a fair settlement within an appropriate time frame, and without any public scrutiny. With your hard work and dedication, we were able to achieve those goals.

- T.O.