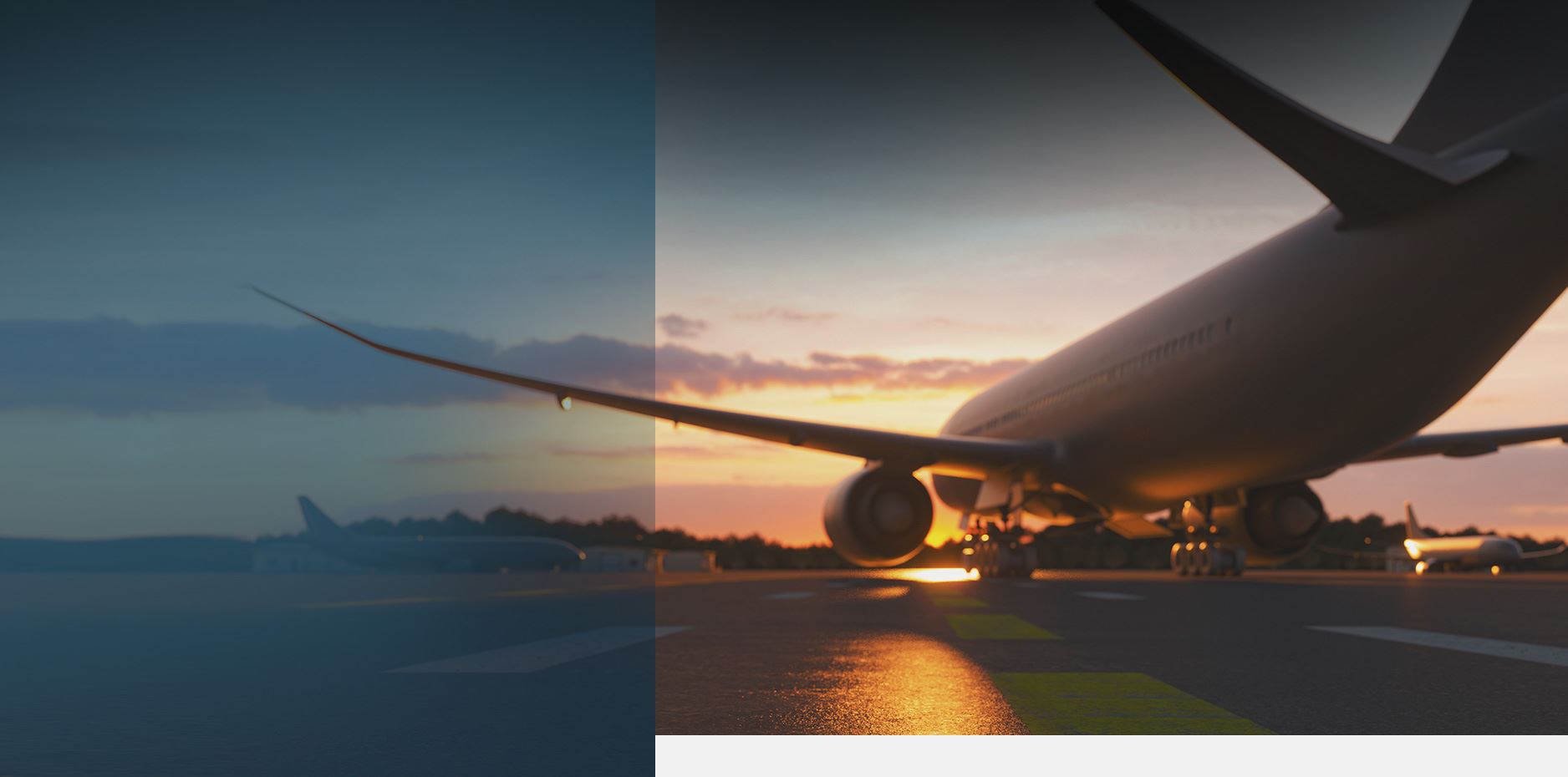 Airport Runway Accidents Client Focused. Trial Ready. Billions Won.
Airport Runway Accident Lawyers
Experienced Representation for Victims of Runway Accidents
Any pilot will tell you that the most critical times of a flight are during takeoff and landing. The margins for errors, in both circumstances, are slim. If anything goes wrong, the likely result is a runway accident, which can have deadly consequences. According to a study published by Boeing Commercial Airplanes, nearly half of all aviation accidents occur during the final approach or landing and 14 percent occur during takeoff or initial climb.
If you or a loved one have been harmed in an airport runway crash, it is in your best interest to speak with an experienced aviation attorney to protect your rights. The vast amount of rules and regulations governing air travel can make aviation accident cases complex and confusing, therefore, retaining a qualified aviation attorney is vital. Our aviation attorneys at Wisner Baum have represented over 100 passengers in more than a dozen runway accidents, and we have dedicated our practice to ensuring that victims of aviation crashes receive the justice and compensation they deserve.
Contact us at (855) 948-5098 to speak with a Los Angeles airport runway accident attorney today.
​
What Causes Takeoff and Landing Runway Accidents?
Most of us have misconceptions about how plane crashes happen. Based on what we see in the movies and on TV, when we think of plane crashes, we typically think of the sensational —a mid-air collision or engine failure at 30,000 feet, resulting in planes plummeting from the sky. The truth is that the majority of aviation accidents happen on the runway during takeoff or landing, not while the airplane is cruising in the air.
Three reasons why airport runway accidents are the most common of all aviation accidents:
Takeoffs and landings are when planes are closest to the ground. There is often not enough time or altitude for the pilots to take corrective action.
Planes are traveling slower, closer to their stalling speeds, and forced to do more maneuvering during these critical times.
Planes are in closer proximity to one another when taking off or landing at an airport.
When a plane is close to the ground or in the proximity of other aircraft, there is little room for error. As we think of runway accidents, we typically think of a mechanical malfunction, maintenance issues or a number of other problems occurring during takeoff or landing that can lead to catastrophe, but oftentimes the pilots didn't do everything they were required to do to set up a safe takeoff or landing.
Top causes for runway accidents:
​Pilot error – Most runway accidents are the result of pilot error, which can result from tactical errors (such as poor actions, planning or decision making, often caused by lack of experience or fatigue) or operational errors (relating to training or instruction).
Air traffic controller error — Air traffic controllers are often responsible for dozens of planes taking off and landing at the same time. The job is a demanding one; difficult and complex. One small mistake can lead to a mid-air collision or runway incursion (this occurs when another plane or a vehicle is on a runway designated for a plane coming in to land, or starting its takeoff roll).
Mechanical failure or defective design – Either of these causes can result in runway accidents. For example, if a landing gear does not deploy it can force pilots to perform a belly landing.
Maintenance error— Roughly 12 percent of all aviation accident reports cite poor maintenance as a contributing factor. Between the years 1994 to 2004, maintenance issues contributed to 42 percent of fatal airline accidents in the U.S.
Bad weather — Inclement weather can cause runway accidents when a plane is either unable to properly take off due to stormy weather, or unable to land appropriately, often causing the plane to overrun a runway.
Types of Runway Accidents
Runway Excursion
Commonly referred to as a runway overrun, a runway excursion is when an aircraft veers off or overruns the runway surface. Runway excursions occur while an aircraft is taking off or landing and can involve a variety of factors ranging from unstable approaches, to the condition of the runway.
According to a study conducted by the Flight Safety Foundation, roughly 96 percent of all runway accidents and 80 percent of the deaths stemming from runway accidents, are the result of runway excursions. The Flight Safety Foundation study found that runway excursions are the most common type of all runway accidents. At Wisner Baum, our aviation attorneys have represented nearly 70 passengers in runway excursion cases.
Runway Incursion
The second most common type of runway accidents, according to the Flight Safety Foundation study, are runway incursions. These occur when an aircraft collides with an unauthorized vehicle, a person on the runway or another plane. Incursion runway accidents are not as common as excursion runway accidents, but they are certainly just as dangerous. In five fatal runway incursions that happened between 1995 and 2007, 129 people lost their lives. The deadliest runway incursion in history killed 583 people in the Canary Islands. Two Boeing 747s collided on March, 27, 1977 at Los Rodeos Airport (now Tenerife North Airport) on the Spanish island of Tenerife.
Runway Confusion
Runway confusion is when a single plane uses the wrong runway or a taxiway during landing or takeoff. Only two fatal runway accidents in recent years have been attributed to runway confusion: Singapore Airlines Flight 006 and Comair Flight 5191.
On October 31, 2000, the pilots of Singapore Airlines Flight 006 attempted to takeoff on a closed runway, in the midst of a typhoon. The plane crashed into some construction equipment, killing 83 of the 179 people onboard. We represented four passengers injured in this runway accident.
Who Can Be Held Liable for Runway Accidents?
As you can see, runway accidents can happen in many different ways, which means that many different parties can be held liable when they occur.
Below are the three instances where you may be able to seek damages:
If a runway crash is caused by pilot error, crew member negligence, or faulty maintenance, the airline and the person (or persons) responsible may be held accountable.
If a runway accident is caused by air traffic controller error, liability in the case is different. Air traffic controllers are Federal Aviation Administration (FAA) employees. A claim involving an error committed by a federal employee has to be filed under the Federal Tort Claims Act (FTCA).
If an accident is caused by a faulty part or mechanical failure, a product liability claim can possibly be filed against the parts manufacturer or the airplane's manufacturer.
For a free case evaluation with an aviation attorney at Wisner Baum, fill out this form or call (855) 948-5098 today.
Legal Rights for Victims of Runway Accidents
If you have been the victim of a runway accident, it is in your best interest to retain an experienced aviation attorney as quickly as possible to ensure that you receive maximum compensation. In the weeks following a runway crash, you and your family will be thrust into dealing with questions from the airline, insurance companies and perhaps even authorities, which is why you need an attorney to advocate on your behalf during this difficult time. All of the defendants in your case will likely have a strong defense team trying to limit their liability, so it is imperative that you have someone fighting for you.
The aviation law firm of Wisner Baum has litigated cases on behalf of more than 700 passengers, crew members and ground workers involved in personal injury and wrongful death claims in the U.S. and around the world. Our team has over 40 years of aviation accident litigation experience, successfully resolving cases against some of the largest airlines in the world, many of them stemming from airport runway accidents.
$14 Million Settlement A Major US Plane Crash

Wisner Baum obtained a $14 million settlement for the death of a passenger in a major US plane crash.

$12 Million Settlement Helicopter Crash

Wisner Baum secured a $12 million settlement for a passenger who was injured in a helicopter crash.

$10 Million Settlement A Major Foreign Plane Crash

Wisner Baum obtained a $10 million settlement for the death of a passenger in a major foreign plane crash.

$17.5 Million Settlement A Major US Plane Crash

Wisner Baum obtained a $17.5 million settlement on behalf of a client who was killed in a major U.S. plane crash. Client-Focused Representation
REVIEWS & TESTIMONIALS
We believe our track record speaks for itself. But you don't have to take our word for it. See what our clients have to say about working with us.
"I Can't Imagine a Better Law Firm"

Multiple lawyers recommended Wisner Baum to me and I have been consistently impressed with the quality of their work.

- Best Law Firms Survey

"They Are About Changing the Systems..."

Wisner Baum are not only amazing attorneys but more importantly, they are activists. They are about changing the systems which got us into trouble in the first place. They understand their role in the process of making change.

- Kim Witczak

"Top Legal Minds in the Country"

The Wisner Baum firm has some of the top legal minds in the country; they are driven, determined, trustworthy, ethical and passionate.

- From Best Lawyers® Best Law Firms

"Diligent & Professional Representation"

Thanks to your efforts I was able to recover from a tragic experience and turn my life around for the best.

- W.T.

"Our Best Interest Was Always Number One on Your List"

A special thank you to your Spanish-speaking staff for the extra effort put into this case. The language barrier was never a problem, and we are so very thankful to them. Your name holds much respect in our family.

- G.C. & C.C

"We Have Never Met a More Wonderful Group of People"

It is obvious that the people at Wisner Baum believe in what they do. And that you all really care about your clients.

- The B. Family

"They Worked Very Hard and Kept in Contact, Which Is Very Important to Me"

I appreciate that you care about how I feel and that you take time to use your talents to ensure your every contact with me is warmly professional.

- A.D.B.

"Your Expertise in This Field Gave Me the Utmost Trust and Confidence"

I wanted a fair settlement within an appropriate time frame, and without any public scrutiny. With your hard work and dedication, we were able to achieve those goals.

- T.O.