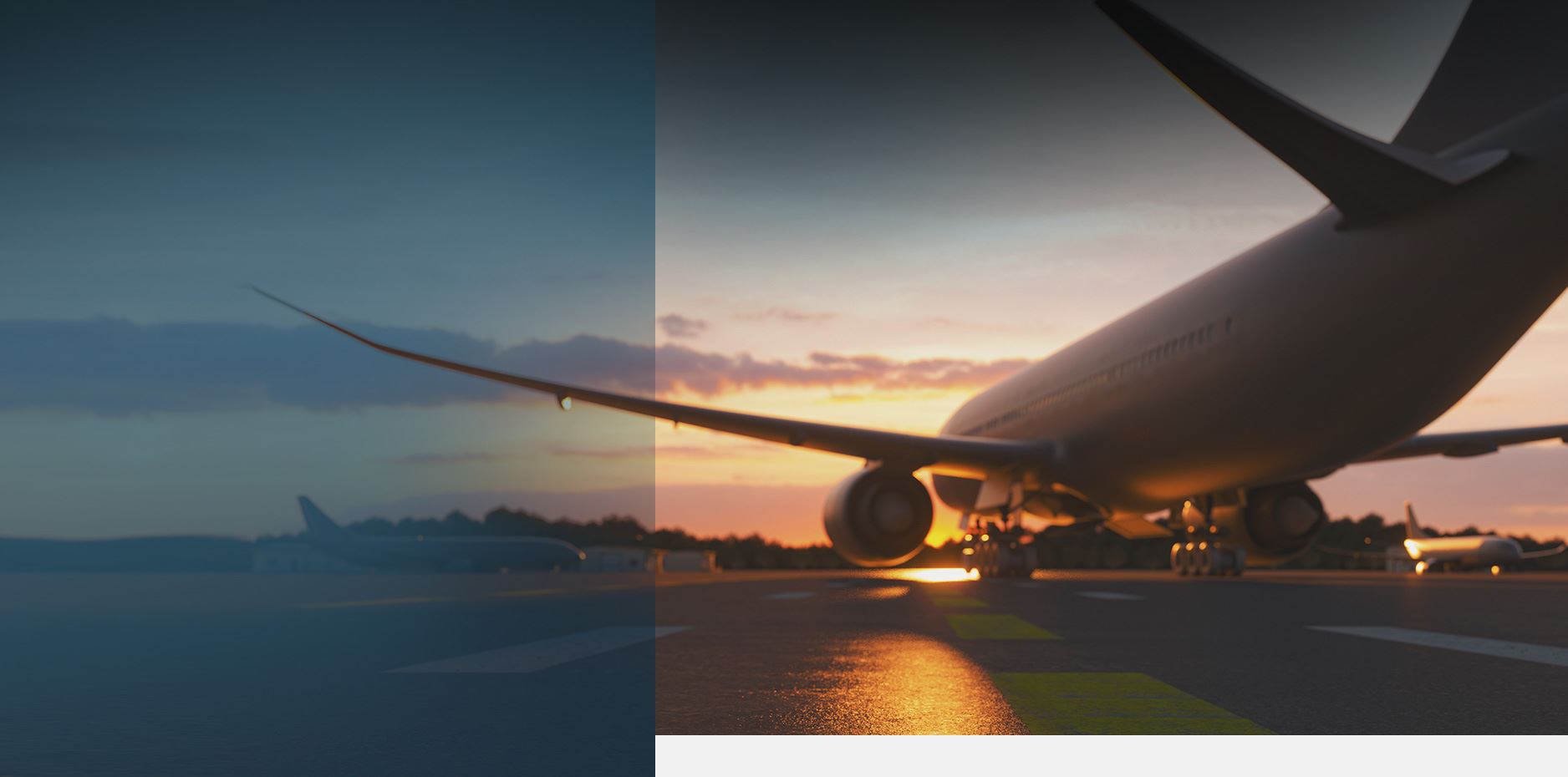 International Airline Crash Client Focused. Trial Ready. Billions Won.
International Airline Crash Lawyers
Representation for International Airline Crash Victims
International airline crashes include those accidents that physically occur outside the borders of the U.S. as well as those flights that are bound for the U.S. or returning from an international destination to the U.S. Of course, there are many complex limitations in bringing lawsuits that require the skill and representation of an experienced aviation attorney. If you have been injured or your loved one has been killed in an international airline crash, our award-winning attorneys from Wisner Baum can assist you in pursuing your claim.
Dealing with the aftermath of an international airline crash can be daunting. The laws of foreign countries can displace the liability of negligent airlines, if the airline is not a signatory to the Montreal Agreement, or limit the amount of compensation that a victim or their family is able to receive. That is why it is so important to have a legal team that is experienced with navigating the difficult process of litigation that arises from an international airline crash.
Our attorneys have nearly 50 years of experience dealing with international aviation cases and the relevant state, federal and international laws that apply to them. We have proven successful in pursuing claims in the complex area of international aviation law.
For more information, call (855) 948-5098 or contact us online. We can serve clients nationwide.
What Causes an International Airline Crash?
While domestic airline crashes in the United States have dropped significantly in the last few decades, much of that improvement can be attributed to increased safety standards and vigilance by airline personnel and passengers, and aircraft designed to be safer. Of course, not all countries have these same safety standards and precautions in place. Many airlines based outside the United States have different requirements for pilot training, safety and maintenance checks. For instance, they don't necessarily demand that at least two members of the flight crew remain in the cockpit at all times.
International airliners can also have different pilot qualifications or training standards. Corporate culture can create different pressures on the flight crew, and that culture can be different from one country to the next. Due to the multiple factors that contribute to an international airline crash, a thorough investigation must be done to discover the true cause or causes of the disaster. It is necessary to analyze all aspects of an international airline crash from the design of the aircraft to the training of the flight crew to find the negligent parties responsible for the accident.
What Makes an International Airplane Crash Different?
It is important to know that there may be very specific laws involved when dealing with an international airline accident that do not necessarily apply when dealing with U.S. airline accidents. An international treaty, known as the Montreal Convention, controls the legal rights of international travelers to sue the airlines for injuries suffered on an airliner. The Montreal Convention limits, although less than its predecessor (the Warsaw Convention), the types of recovery and where a victim or family can bring a claim.
Our Los Angeles attorneys know that where certain claims cannot be brought against the airliner, those claims may still be brought against negligent manufacturers, outsourced maintenance contractors or other liable third parties. We know how to investigate an international airline crash to successfully recover from every responsible party and how to characterize the injuries to maximize the recovery.
What Happens with Other Types of International Air Crashes?
Wisner Baum has handled many types of international cases, from military helicopter operations that crash overseas, to foreign sightseeing air tours that crashed and injured or killed passengers. We've even handled cases involving negligent aircraft and parts manufacturers in the U.S. that have sold defectively designed aircraft to international customers. We have proven, time and again, that no matter the distance, we can effectively investigate and litigate a complex international air accident.
We have handled international air crashes against:
Aero Mexico
Airbus
Alaska Airlines
Asiana Airlines
Boeing
Bombardier
British European Airways
China Eastern Airlines
EgyptAir
Honeywell
Korean Air
McDonnell Douglas
Pacific Southwest Airlines
Raytheon
SAS-Scandinavian Airline Systems
Singapore Airlines
SwissAir
TACA Airlines
TWA
Examples of Our International Airline Crash Cases
Sriwijaya Air Flight 182 Crash: On January 9, 2021, a Boeing 737-500 with 62 people on board crashed into the Java Sea shortly after taking off from Indonesia's capital Jakarta. There were no survivors. The flight was transporting 56 passengers and six crew members from Jakarta to Pontianak on the island of Borneo. All deceased passengers and crew members were Indonesian nationals. Wisner Baum aviation attorneys represent clients who lost loved ones in this crash.
Ethiopian Airlines Flight 302 Crash: On March 10, 2019, minutes after it took off from Addis Ababa in Ethiopia, a Boeing 737 MAX 8 aircraft operating as Ethiopian Airlines Flight 302 crashed, killing every person on the plane. The 157 victims included citizens of the United States, Britain, Canada, Ethiopia and many other countries. This crash was the second involving a Boeing 737 MAX 8 aircraft in less than five months, following the Lion Air crash in October 2018 (see below). After the Ethiopian Airlines plane crash, international regulators around the world grounded Boeing 737 MAX aircraft, with investigators finding that the crash was linked to the plane's automatic flight control system. In January of 2021, the U.S. Justice Department announced that Boeing had agreed to resolve a criminal charge related to conspiracy to defraud the U.S. Federal Aviation Administration's (FAA) evaluation of the 737 MAX aircraft. Wisner Baum successfully represented the interests of several ET302 families in litigation against Boeing.
Lion Air Flight 610 Crash: On October 29, 2018, a Boeing 737 MAX 8 operating as Lion Air Flight JT 610 crashed into the Java Sea, killing all 189 people on board. The pilot told air traffic controllers the plane was experiencing "technical difficulties" just before the fatal crash. Boeing and the FAA both issued safety alerts following the Lion Air crash, and the aircraft was grounded worldwide after the ET302 crash. As it did for the families of the ET302 crash, Wisner Baum successfully represented a family of a passenger who died in the Lion Air crash.
Germanwings Flight 4U9525 Crash: On March 24, 2015, an Airbus A320 plane operated by Germanwings drastically lost altitude over the span of eight minutes before crashing into the French Alps, killing all 150 people on the plane. Investigators concluded that the flight's co-pilot deliberately caused the crash by steering the plane into the mountains. Our firm successfully resolved a lawsuit brought by the family of the only two Americans killed in this crash. Through our litigation, we were able to change the law to allow the families of Americans who are killed while flying internationally to bring an action against a foreign airline in America.
American Airlines Flight 331 Crash: On 22 December 2009, Boeing 737-800 operating American Airlines Flight 331 crashed during landing in Kingston, Jamaica. The plane, with 148 passengers and six crew members on board, overran a runway and continued past the airport perimeter before breaking apart on the beach. Dozens of people sustained injuries. Wisner Baum successfully represented several families in cases.
TACA Airlines Flight 390 Crash: On May 30, 2008, an Airbus A320-233 operated by TACA overran the runway while attempting to land at Tegucigalpa's Toncontín International Airport in Honduras. The aircraft rolled into a street adjacent to the airport and crashed into an embankment, smashing several passenger vehicles in the process. Wisner Baum successfully represented the interests of several victims in cases.
Scandinavian Airlines System Flight 686 Crash: On October 8, 2001, a McDonnell Douglas MD-87 airliner operating as Scandinavian Airlines System Flight 686 was attempting to take off from Linate Airport in Milan, Italy when it collided with a Cessna Citation CJ2 business jet. All 114 people on both aircraft were killed, as well as four people on the ground. Known as the Linate Airport disaster, the crash is the deadliest commercial aviation accident in Italy's history. Wisner Baum lawyers successfully represented an American family in a wrongful death case.
EgyptAir Flight 990 Crash: On October 31, 1999, a Boeing 767-300ER operating as EgyptAir Flight 990 crashed into the Atlantic Ocean roughly 60 miles outside of Nantucket Island, Massachusetts. The crash killed all 217 passengers and crew members on the plane. Wisner Baum successfully resolved claims on behalf of nine families with wrongful death claims.
Korean Air Lines Flight 801 Crash: On August 6, 1997, a Boeing 747-3B5 operating as Korean Airlines Flight KE801 crashed on approach to Antonio B. Won Pat International Airport in Guam, killing 228 of the 254 people on the plane. A post-crash investigation cited poor communication between the flight crew as the probable cause of the disaster, along with the flight captain's poor decision-making on the non-precision approach. Wisner Baum successfully represented multiple clients in cases.
Swissair Flight 111 Crash: On September 2, 1998, a McDonnell Douglas MD-11 operating as Swissair Flight 111 crashed into the Atlantic Ocean off the coast of Nova Scotia. All 229 passengers and crew members were killed in what became the deadliest McDonnell Douglas MD-11 crash in history. Investigators listed the probable cause as electrical and instrument failure due to in-flight fire, which resulted in spatial disorientation and loss of control of the aircraft. Wisner Baum successfully resolved multiple wrongful death claims stemming from this tragedy.
Trans World Airlines Flight 800 Crash: On July 17, 1996, a Boeing 747-100 operating as TWA Flight 800 exploded in midair and crashed into the Atlantic Ocean off the coast of New York minutes after takeoff. All 230 people on board died in the crash, which is the third-deadliest commercial aviation accident in U.S. history. Wisner Baum successfully resolved cases for more than a dozen families with wrongful death claims.
American Airlines Flight 965 Crash: On December 20, 1995, a Boeing 757-223 operating as American Airlines Flight 965 crashed into a mountain in Buga, Colombia, killing 151 of the 155 passengers on board and all eight flight crew members. The AA Flight 965 crash is one of the deadliest crashes of an American air carrier of the last 35 years. Wisner Baum represented numerous clients and successfully resolved cases on their behalf.
For immediate assistance, or to schedule an initial consultation or case evaluation with an experienced aviation lawyer, please contact us online or call (855) 948-5098.
We Handle All Matters Involving International Airline Accidents
Wisner Baum can assist victims and their families with any international airline crash matters, including:
Montreal Convention
Death on the High Seas Act (DOHSA)
Private airplane accidents
Airplane fatalities
U.S. Airline accidents involving international flights
$14 Million Settlement A Major US Plane Crash

Wisner Baum obtained a $14 million settlement for the death of a passenger in a major US plane crash.

$12 Million Settlement Helicopter Crash

Wisner Baum secured a $12 million settlement for a passenger who was injured in a helicopter crash.

$10 Million Settlement A Major Foreign Plane Crash

Wisner Baum obtained a $10 million settlement for the death of a passenger in a major foreign plane crash.

$17.5 Million Settlement A Major US Plane Crash

Wisner Baum obtained a $17.5 million settlement on behalf of a client who was killed in a major U.S. plane crash. Client-Focused Representation
REVIEWS & TESTIMONIALS
We believe our track record speaks for itself. But you don't have to take our word for it. See what our clients have to say about working with us.
"I Can't Imagine a Better Law Firm"

Multiple lawyers recommended Wisner Baum to me and I have been consistently impressed with the quality of their work.

- Best Law Firms Survey

"They Are About Changing the Systems..."

Wisner Baum are not only amazing attorneys but more importantly, they are activists. They are about changing the systems which got us into trouble in the first place. They understand their role in the process of making change.

- Kim Witczak

"Top Legal Minds in the Country"

The Wisner Baum firm has some of the top legal minds in the country; they are driven, determined, trustworthy, ethical and passionate.

- From Best Lawyers® Best Law Firms

"Diligent & Professional Representation"

Thanks to your efforts I was able to recover from a tragic experience and turn my life around for the best.

- W.T.

"Our Best Interest Was Always Number One on Your List"

A special thank you to your Spanish-speaking staff for the extra effort put into this case. The language barrier was never a problem, and we are so very thankful to them. Your name holds much respect in our family.

- G.C. & C.C

"We Have Never Met a More Wonderful Group of People"

It is obvious that the people at Wisner Baum believe in what they do. And that you all really care about your clients.

- The B. Family

"They Worked Very Hard and Kept in Contact, Which Is Very Important to Me"

I appreciate that you care about how I feel and that you take time to use your talents to ensure your every contact with me is warmly professional.

- A.D.B.

"Your Expertise in This Field Gave Me the Utmost Trust and Confidence"

I wanted a fair settlement within an appropriate time frame, and without any public scrutiny. With your hard work and dedication, we were able to achieve those goals.

- T.O.