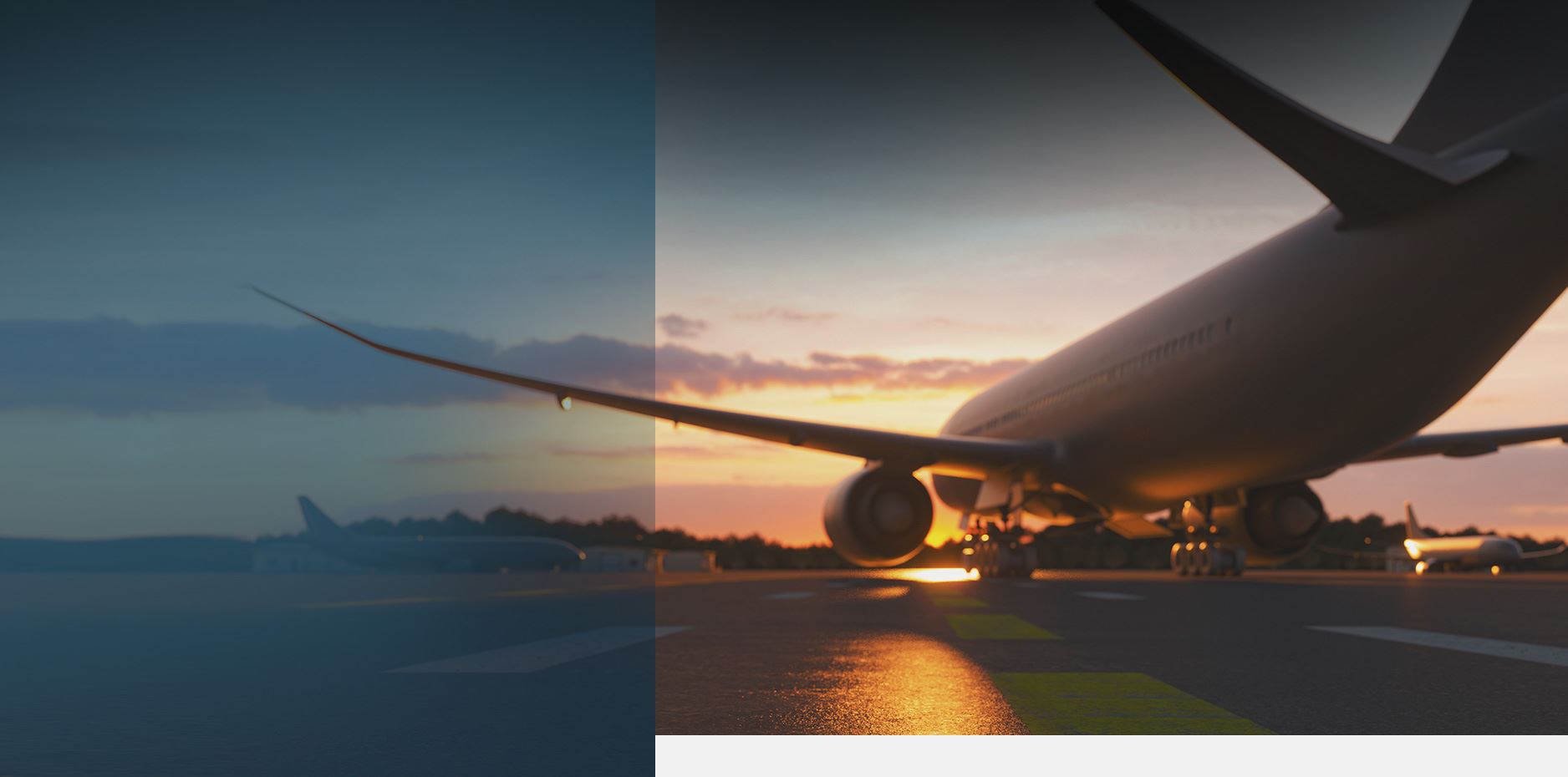 Case History Client Focused. Trial Ready. Billions Won.
Commercial Airline Crashes Case History
At Baum, Hedlund, Aristei & Goldman, our aviation attorneys have extensive experience litigating commercial airline accident claims, including performing a thorough investigation and and identifying defendants and liable parties responsible for the crash in order to recover just compensation for victims and their families. Our firm has successfully litigated cases against every major airline in the United States that has been involved in a plane crash since 1985, as well as a significant number of international airlines. We believe our track record of handling major airline crash lawsuits over our many decades of practice speaks for itself. The list below contains examples of our commercial airline crashes case history.
Our Commercial Airline Crash Cases
JetBlue Flight 2276 Inflight Engine Explosion, Airbus A320, from San Juan Puerto Rico to Connecticut, 2020
Southwest Airlines Flight 1380 inflight emergency, Boeing 737-7H4, Queens, New York to Dallas, Texas, 2018
Asiana Airlines Flight OZ214 runway crash, Boeing 777, San Francisco International Airport, San Francisco, California, 2013
Southwest Airlines Flight 812 inflight fuselage skin peel, Boeing 737, over Yuma, Arizona, 2011
JetBlue Flight 262 hard landing, Airbus A320, Sacramento International Airport, Sacramento, California, 2010
United Airlines Flight 967 inflight turbulence, Boeing 777-200, from Washington, D.C. to Los Angeles, 2010
American Airlines Flight 331 runway accident, Boeing 737-800, Norman Manley International Airport, Kingston, Jamaica, 2009
Continental Connection Flight 3407/Colgan Air, Bombardier Dash-8 Q400, Clarence Center, New York, 2009
Continental Airlines Flight 1404 runway accident, Boeing 737-524, Denver International Airport, Denver, Colorado, 2008
TACA Airlines Flight 390 runway accident, Airbus 320, Toncontin International Airport, Tegucigalpa, Honduras, 2008
United Airlines Flight 1028 dive, McDonnell Douglas DC10, over Nevada, 2008
Comair Flight 5191 runway crash, Bombardier Canadair Regional Jet 100ER, Blue Grass Airport, Lexington, Kentucky, 2006
Southwest Airlines Flight 1248 runway accident, Boeing 737-7H4, Midway International Airport, Chicago, Illinois, 2005
Air Midwest Flight 5481 crash (US Airways Express), Beechcraft 1900D, Charlotte/Douglas International Airport, North Carolina, 2003
American Airlines Flight 587 crash, Airbus A300, Belle Harbor (Queens), New York, 2001
American Airlines Flight 11 hijacking and crash, Boeing 767, into the World Trade Center, New York, 2001
United Airlines Flight 175 hijacking and crash, Boeing 767-222, into the World Trade Center, New York, 2001
American Airlines Flight 77 hijacking and crash, Boeing 757-223, into the Pentagon, Arlington, Virginia, 2001
United Airlines Flight 93 hijacking and crash, Boeing 757-222, near Shanksville, Pennsylvania, 2001
Scandinavian Airlines Flight 686 – SAS (previously Scandinavian Airlines Systems) collision, McDonnell Douglas MD-87 and Cessna Citation CJ2, Milan, Italy, 2001
Singapore Airlines Flight SQ006 runway crash, Boeing 747-400, Chiang Kai-shek International Airport (now Taiwan Taoyuan International Airport), Taipei, Taiwan, 2000
Southwest Airlines Flight 1455 runway accident, Boeing 737, Burbank-Glendale-Pasadena Airport, Burbank, California, 2000
Alaska Airlines Flight 261 crash, McDonnell Douglas MD-83, Pacific Ocean, near Pt. Mugu, California, 2000
EgyptAir Flight 990 crash, Boeing 767, Atlantic Ocean, near Nantucket Island, Massachusetts, 1999
American Airlines Flight 1420 runway crash, McDonnell Douglas MD-82, Little Rock National Airport, Little Rock, Arkansas, 1999
Swissair Flight 111 accident, McDonnell Douglas MD-11, near Peggy's Cove, Nova Scotia, 1998
Continental Flight 75 inflight mishap, McDonnell Douglas DC-1010, Los Angeles to Hawaii, 1998
United Airlines Flight 81 inflight mishap, Boeing 767, LaGuardia to LAX, 1998
Korean Air Lines Flight 801 accident, Boeing 747-300, Agana, Guam, 1997
Airborne Express test flight accident, DC-8-63, near Narrows, Virginia, 1996
United Express Flight 5925 and Beechcraft King Air A90 runway incursion, Quincy Regional Airport, Quincy, Illinois, 1996
TWA Flight 800 explosion, Boeing 747-131, near East Moriches, New York, 1996
ValuJet Airlines Flight 592 disaster, McDonnell Douglas DC9-32, near Miami, Florida, 1996
American Airlines Flight 965 accident, Boeing 757, near Cali, Colombia, 1995
Atlantic Southeast Airlines Flight 529 accident, Embraer EMB 120, near Carrollton, Georgia, 1995
USAir Flight 427 crash, Boeing 737-3B7, near Aliquippa, Pennsylvania, 1994
USAir Flight 1016 crash, McDonnell Douglas DC-9, Charlotte, North Carolina, 1994
Northwest Airlink Flight 5719 crash (Express Airlines II), Jetstream 31, Hibbing, Minnesota, 1993
China Eastern Airlines Flight 583 accidental flap/slat deployment, McDonnell Douglas MD-11, Shanghai to Los Angeles, 1993
Continental Airlines Flight 588 runway accident, McDonnell Douglas DC-9-82, Stapleton International Airport, Denver, Colorado, 1993
Mesa Airlines commercial training flight accident, Bellanca 7GCBC, Telluride, Colorado, 1993
TACA Airlines Flight 510 runway accident, Boeing 767-2S1ER, La Aurora International Airport Guatemala, 1993
TWA Flight 843 aborted takeoff runway crash, Lockheed L-1011, John F. Kennedy International Airport, New York, 1992
USAir Flight 405 runway crash, Fokker F-28, LaGuardia Airport, Flushing Bay, New York, 1992
USAir Flight 305 rough landing at Elmira Corning Regional Airport, DC-9-30 crash, Horseheads, New York, 1992
CommutAir Airlines Flight 4821 crash (USAir Express), Raytheon Beech 1900C, Saranac Lake, NY, 1992
Delta Airlines inflight emergency, McDonnell Douglas MD-88, Tampa to Los Angeles, 1992
United Airlines Flight 852 inflight turbulence, Boeing 747-100, Japan to San Francisco, 1992
USAir inflight emergency, Boeing 737-300, Los Angeles to Florida, 1991
United Airlines Flight 585 crash, Boeing 737-200, Colorado Springs, Colorado, 1991
Tropic Air Flight 80 crash, Cessna 402B, Belize, 1991
USAir Flight 1493 Boeing 737-3B7 and SkyWest Airlines Flight 5569 Fairchild Swearingen Metroliner runway collision, Los Angeles International Airport, Los Angeles, California, 1991
Aeroperlas Air Flight 451 crash, De Havilland Canada DHC-6 Twin Otter, Panama City, Panama, 1990
Northwest Airlines Flight 1482, DC-9-14, and Northwest Airlines Flight 299, Boeing 727, runway collision, Detroit Metropolitan Wayne County Airport, Romulus, Michigan, 1990
United Airlines Flight 232 crash landing, DC-10, Sioux Gateway Airport, Sioux City, Iowa, 1989
Grand Canyon Airlines Flight 5 tour accident, de Havilland Canada DHC-6-300, Phoenix, Arizona, 1989
Continental Express Flight 2286 crash, Fairchild Metro lll, Durango, Colorado, 1988
Delta Airlines Flight 1141 runway crash, Boeing 727-232, Dallas/Fort Worth International Airport, Dallas, Texas, 1988
Northwest Airlines Flight 255 crash, DC-9-82, Detroit Metropolitan Wayne County Airport, Romulus, Michigan, 1987
Cerritos mid-air collision between Aeromexico Flight 498 and Piper PA 28-181, Cerritos, California, 1986*
Arrow Air Flight 1285 (101st Airborne Division) accident, DC-8-63CF, Gander, Newfoundland, 1985
Comair Flight 444, Piper Navajo, Covington, Kentucky, 1979*
Pacific Southwest Airlines Flight 182, Boeing 727-214, and Cessna 172 mid-air collision, San Diego, California, 1978*
British European Airways Flight 548, Hawker Siddeley Trident 1C, near Staines, England, 1972*
Let Us Put Our Experience to Work for You. Contact Our Attorneys Today.
If an airline crash has had a serious impact on your family, contact us online or call (855) 948-5098. Our lawyers handle both domestic and international cases. Client-Focused Representation
REVIEWS & TESTIMONIALS
We believe our track record speaks for itself. But you don't have to take our word for it. See what our clients have to say about working with us.
"I Can't Imagine a Better Law Firm"

Multiple lawyers recommended Wisner Baum to me and I have been consistently impressed with the quality of their work.

- Best Law Firms Survey

"They Are About Changing the Systems..."

Wisner Baum are not only amazing attorneys but more importantly, they are activists. They are about changing the systems which got us into trouble in the first place. They understand their role in the process of making change.

- Kim Witczak

"Top Legal Minds in the Country"

The Wisner Baum firm has some of the top legal minds in the country; they are driven, determined, trustworthy, ethical and passionate.

- From Best Lawyers® Best Law Firms

"Diligent & Professional Representation"

Thanks to your efforts I was able to recover from a tragic experience and turn my life around for the best.

- W.T.

"Our Best Interest Was Always Number One on Your List"

A special thank you to your Spanish-speaking staff for the extra effort put into this case. The language barrier was never a problem, and we are so very thankful to them. Your name holds much respect in our family.

- G.C. & C.C

"We Have Never Met a More Wonderful Group of People"

It is obvious that the people at Wisner Baum believe in what they do. And that you all really care about your clients.

- The B. Family

"They Worked Very Hard and Kept in Contact, Which Is Very Important to Me"

I appreciate that you care about how I feel and that you take time to use your talents to ensure your every contact with me is warmly professional.

- A.D.B.

"Your Expertise in This Field Gave Me the Utmost Trust and Confidence"

I wanted a fair settlement within an appropriate time frame, and without any public scrutiny. With your hard work and dedication, we were able to achieve those goals.

- T.O.