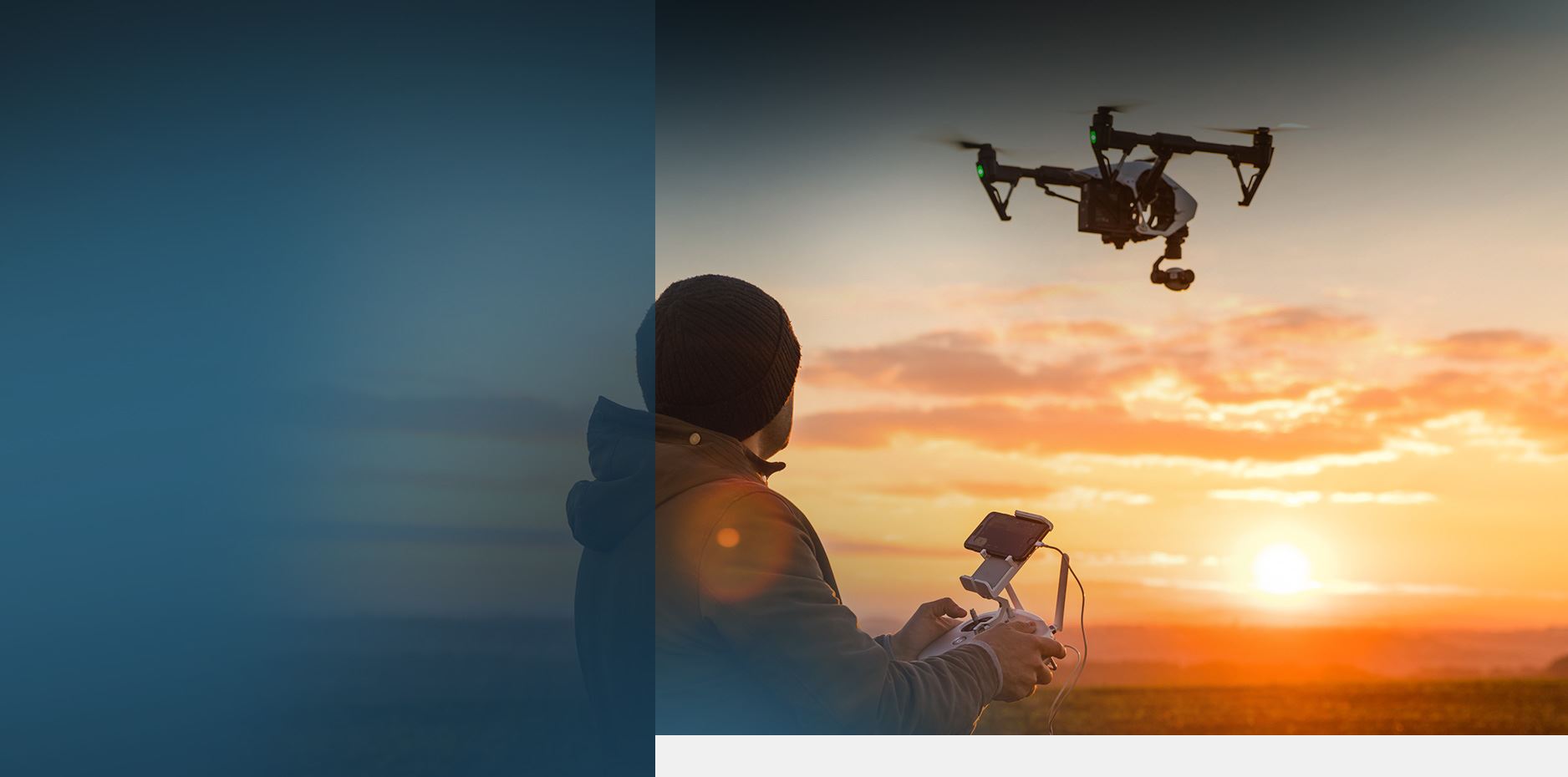 Drone Crashes Client Focused. Trial Ready. Billions Won.
Drone Accident Lawyers
Representing Victims of Drone Crashes in California and Nationwide
The personal and commercial use of drones in the U.S. has grown rapidly – and that growth is expected to continue. While increased drone usage will surely bring new and exciting economic opportunities for business, more drones in the sky will also bring more risk for drone crashes and drone injuries.
Drones are equipped with multiple sharp metallic blades that can easily inflict serious damage to a person or property. If you have been harmed in a drone accident, it is in your best interest to speak with an attorney about the circumstances surrounding the incident. Our drone lawyers at Wisner Baum will fight for compensation on your behalf to hold any negligent parties responsible for your drone injuries.
For more information on filing a drone lawsuit, please fill out our contact form.
What Is a Drone?
While the general public uses the term "drone," the industry term is Unmanned Aircraft System (UAS) or Unmanned Aircraft Vehicle (UAV). A drone is an aircraft without a pilot onboard: Instead, a person operates the aircraft from the ground. Drones vary widely in size and weight – they can be as small as a magazine or as large as a Boeing 737.
Drones are generally used for three different purposes: public, civil and recreation. Public use includes operations for the U.S. government where the FAA issues a Certificate of Waiver or Authorization (COA) permitting use. Civil use is defined as a commercial, non-governmental operation and requires approval via a Section 333 exception or Special Airworthiness Certificate (SAC) from the FAA. Drone use by hobbyists is the most prevalent in the U.S. today, and while FAA approval is not generally required in order to fly the most common drones, there are specific guidelines that recreational drone users must follow.
Five Common Drone Uses
Below is a sample of the most common uses for drones in the United States:
Attack Drones – Armed with weapons, these drones are used by the military for controlled air strikes in hostile or inaccessible areas.
Crowd Control Drones – Commonly used by the military and law enforcement agencies, crowd control drones are equipped with non-lethal weapons like tear gas or sound cannons. These drones can initiate crowd dispersion without causing serious physical harm.
Delivery Drones – Delivery drones were initially developed for military and government use, so users could remotely drop items in a chosen area. By now, many of us have heard that companies like DHL and Amazon want to make delivery drones the new normal for delivering products to consumers. If used safely and effectively, delivery drones could effectively cut down on shipping time, minimize cost and reduce traffic congestion.
Monitoring Drones – Equipped with technology like infrared cameras and severe weather instruments, monitoring drones can be used for anything from scientific research to preventing crime. For example, a monitoring drone is capable of getting closer than a police helicopter, so these drones have numerous crime fighting capabilities. They can also assist fire officials in fighting wild fires. Last, but not least, monitoring drones can be used for scientific research purposes, like seeing firsthand what it looks like inside a tornado.
Photo or Video Drones – Ever popular in the art of filmmaking, photo and video drones are making aerial shots more affordable than ever before. It used to be that filmmakers would have to hire helicopters or small planes to get the footage they needed. Now, even amateur filmmakers can simply attach a GoPro camera to a drone and get stunning aerial photography on par with the big movie studios.
Drone Laws California
Drone regulations have been put in place at the federal, state, and local levels. In California, drone operators must adhere to a combination of laws established by the federal government, the California State Legislature, and various local authorities.
All drone operators in California, whether for commercial or hobbyist use, must follow the Federal Aviation Administration (FAA) guidelines. Commercial drone pilots must obtain a Remote Pilot Certificate by passing the FAA's Aeronautical Knowledge Test. Hobbyist drone operators must take the Recreational UAS Safety Test (TRUST) and follow the recreational model aircraft rules. Drones weighing over 0.55 lbs (250g) must also be registered for a fee of $5.
For government employees, such as those working in the police or fire department, two options are available. They can either operate under the FAA's Part 107 rule or obtain a federal Certificate of Authorization (COA).
In addition to federal regulations, the California State Legislature has enacted several laws specific to the state. Some notable laws include:
AB 2655 (2020): First responders are prohibited from taking pictures of crime scenes without a valid reason, including the use of drones.
PO 925-19-32 (2019): Prohibits launching, landing, or operating drones within any park unit in the Orange Coast District. This includes: Bolsa Chica State Beach, Corona del Mar State Beach, Crystal Cove State Park, Doheny State Beach, Huntington State Beach, San Clemente State Beach, and San Onofre State Beach.
SB 807 (2016): This law grants immunity to first responders who damage a drone that is interfering with their emergency services.
AB 1680 (2016): Interfering with the activities of first responders during an emergency is now considered a misdemeanor.
AB 856 (2015): It is prohibited to capture images or recordings of individuals engaging in private activities without their permission. This law was enacted in response to the invasion of privacy caused by drones used by the press.
Certain areas in California have local regulations regarding drone usage. These local laws may apply to public parks, cities, or counties within the state. Some examples of local drone laws in California include:
Calabasas: Local authorities are authorized to enforce FAA drone regulations. Under this ordinance, violations of FAA regulations pertaining to drone usage will be classified as misdemeanors. Furthermore, the ordinance places restrictions on how close drones can be flown to schools or public events.
California Department of Parks & Regulations (Cal. Code Regs. title. 14, § 4351) (2015): The use of drones within State Park wilderness areas, cultural preserves, and nature preserves is prohibited. Drone pilots are encouraged to consult the regulations of each California State Park as they may have their own rules.
Hermosa Beach: An ordinance in Hermosa Beach requires drone operators to obtain an operating permit from the city and prohibits recording individuals or private property in circumstances where privacy is reasonably expected.
La Mesa: Prohibits the use of drones, whether operated with or without a remote controller, in any city park.
Los Alamitos: Enacted its own municipal ordinance that imposes restrictions on drone flight and activity within its jurisdiction.
Malibu: For commercial drone operations within the city of Malibu, drone operators must obtain a filming permit from the local authorities. Due to most of Malibu's airspace falling under National Park airspace, which is designated as a No-Fly Zone, these permits are typically granted for purposes such as capturing real estate imagery.
MidPeninsula Regional Open Space District Lands: Restricts the use of drones on or above any of its managed properties, except in designated areas or with the possession of a valid written permit.
Napa: According to the Napa Municipal Code 12.36.130, flying drones in city parks is strictly prohibited.
Rancho Palos Verdes: The City of Rancho Palos Verdes prohibits the operations of drones on any city-owned property unless the specific area has been designated for such use.
Sacramento County: Per County Code 9.36.068, the use of drones is prohibited in Sacramento County parks, unless specific areas are designated for such use or express permission is acquired from the Director.
San Francisco: Park Code Sec. 3.09 in San Francisco prohibits the operation of drones in city parks without explicit permission from the Recreation and Park Department.
Santa Clara Valley Open Space Authority: Strictly forbids the use of drones over any property managed by the Santa Clara Valley Open Space Authority. Pilots intending to operate a drone in these areas must apply for a permit, with exceptions granted to search and rescue operations, fire protection, and law enforcement activities.
Yorba Linda: A municipal ordinance in this city bans drone takeoffs and landings outside of the visual line of sight of the pilot, within 25 feet of another person, and on private property without the owner's consent.
FAA Drone Regulations
On June 21, 2016, the FAA released long awaited operational rules for routine commercial use of small drones. The recently proposed FAA drone regulations are scheduled to take effect in August of 2016. One new drone law in particular, Part 107, offers safety regulations for UAS that conduct commercial operations and for drones that weigh less than 55 pounds.
The new drone regulations establish the following key requirements:
Per the new FAA drone regulations, drone operators must always avoid manned aircraft and never operate in a careless or reckless manner.
According to the FAA, drone pilots need to keep unmanned aircraft within visual line of sight. If the drone pilot uses 'First Person View' or similar technology, the pilot must have a visual observer always maintain unaided sight (no binoculars). However, even if the pilot uses a visual observer, the drone must still remain close enough to see, in the event that something unexpected happens. Neither the drone pilot nor a visual observer can be responsible for more than one UAS operation at a time.
Operations are only allowed in daylight hours or during twilight (30 minutes before scheduled sunrise and 30 minutes after scheduled sunset, local time), provided the drone is equipped with "anti-collision lights."
Maximum altitude a drone can reach is 400 feet, higher if the drone remains within 400 feet of a structure. Maximum speed is 100 miles-per-hour.
Per the FAA drone regulations, pilots cannot fly over anyone not directly participating in the operation. Likewise, operators cannot fly under a covered structure or inside a covered stationary vehicle.
Drone pilots flying in Class G airspace are permitted to do so without permission from air traffic control. Drone pilots flying in Class B, C, D or E airspace need approval from air traffic control.
According to the FAA, drone operators can affix an external load to the aircraft, provided the load is securely attached and does not adversely affect flight. Operators may also transport cargo for compensation within state boundaries, as long as the total of the attached systems, payload and cargo weigh less than 55 pounds (Some state exemptions apply, see Part 107 for full details).
Drone Waivers for Business
Businesses that wish to use drones outside of the above restrictions can apply for a waiver through the FAA. To qualify for a waiver, businesses must prove that their proposed drone use is safe.
According to FAA administrator Michael Huerta, 76 businesses have been approved for these waivers, most of which allow businesses to operate commercial drones after dark.
Commercial Drone Pilot Certification
Per FAA drone regulations, in order to operate a commercial drone under Part 107, you must obtain a remote pilot airman certificate with a small UAS rating, or be under the supervision of someone who has the certification. To qualify for a remote pilot airman certification, a person 16 years of age or older must do one of two things:
Pass an initial aeronautical knowledge test at an FAA-approved knowledge center, or
If you already have a Part 61 pilot certificate (other than student pilot certificate), you must have completed a flight review within the previous 24 months, and you must take an FAA UAS training course.
Recreational Drone Operators
Anyone who wishes to fly a drone recreationally does not have to have the FAA's permission, as long as a few requirements are met. Per FAA drone regulations, recreational drone operators must register their UAS if it weighs more than .55 pounds and less than 55 pounds. Operators are also required to label their UAS with their registration number, and read and understand all drone safety guidelines. Recreational drone operators are required to keep their drone in their line of site and always be aware of airspace requirements.
They are also forbidden from violating these restrictions:
Flying UAS in excess of 400 feet
Flying UAS near other aircraft or airports
Flying UAS over groups of people
Flying UAS over stadiums or other public gatherings
Flying UAS near emergency response units
Flying UAS under the influence of drugs or alcohol
Drone No Fly Zones
Federal drone laws also prohibit UAS from flying in specific areas. Drone no fly zones include:
Airports
Temporary Flight Restrictions (Events)
Prohibited and Restricted Airspace (such as around the White House or Camp David)
Any National Parks or lands operated by the National Park Service
NOAA Marine Protection Areas
Steps to Filing a Drone Lawsuit
In order to file a drone lawsuit, it is vital that you do the following:
If possible, write down the drone's registration number and file a police report to document the incident.
After seeking medical attention, be sure to collect all documentation related to your treatment.
Collect contact information for those who witnessed the drone accident.
Wisner Baum has successfully handled thousands of personal injury and wrongful death cases, securing over $4 billion on behalf of our clients across the nation. Our personal injury attorneys have litigated against some of the corporations in the world, including aircraft manufacturers, airlines, medical device manufacturers and pharmaceutical companies. With decades of experience, our firm has developed a reputation for improving product safety, influencing public policy and holding Fortune 500 companies accountable.
Contact us at (855) 948-5098 to get started with a free consultation. We serve clients nationwide from our offices in Los Angeles.
Call an Experienced Drone Accident Lawyer
If you have been injured in a drone accident, you may be wondering about your rights. While drone law is new and constantly changing at the federal and state level, in many cases, negligent drone operators and manufacturers of defective drones may be held liable for any injuries caused in certain drone crashes.
In order to obtain justice in a drone lawsuit, it must be proven that the drone operator was negligent by failing to act with reasonable care, and that negligence was the cause of the drone crash that resulted in injuries. Likewise, if a drone maker is to be named in a drone lawsuit, it must be proven that the company provided inadequate instructions for operation, insufficient safety controls, or manufactured a defective product. If your drone lawsuit is successful, it is possible to recover losses stemming from medical bills, lost wages and pain and suffering.
$14 Million Settlement A Major US Plane Crash

Wisner Baum obtained a $14 million settlement for the death of a passenger in a major US plane crash.

$12 Million Settlement Helicopter Crash

Wisner Baum secured a $12 million settlement for a passenger who was injured in a helicopter crash.

$10 Million Settlement A Major Foreign Plane Crash

Wisner Baum obtained a $10 million settlement for the death of a passenger in a major foreign plane crash.

$17.5 Million Settlement A Major US Plane Crash

Wisner Baum obtained a $17.5 million settlement on behalf of a client who was killed in a major U.S. plane crash. Client-Focused Representation
REVIEWS & TESTIMONIALS
We believe our track record speaks for itself. But you don't have to take our word for it. See what our clients have to say about working with us.
"I Can't Imagine a Better Law Firm"

Multiple lawyers recommended Wisner Baum to me and I have been consistently impressed with the quality of their work.

- Best Law Firms Survey

"They Are About Changing the Systems..."

Wisner Baum are not only amazing attorneys but more importantly, they are activists. They are about changing the systems which got us into trouble in the first place. They understand their role in the process of making change.

- Kim Witczak

"Top Legal Minds in the Country"

The Wisner Baum firm has some of the top legal minds in the country; they are driven, determined, trustworthy, ethical and passionate.

- From Best Lawyers® Best Law Firms

"Diligent & Professional Representation"

Thanks to your efforts I was able to recover from a tragic experience and turn my life around for the best.

- W.T.

"Our Best Interest Was Always Number One on Your List"

A special thank you to your Spanish-speaking staff for the extra effort put into this case. The language barrier was never a problem, and we are so very thankful to them. Your name holds much respect in our family.

- G.C. & C.C

"We Have Never Met a More Wonderful Group of People"

It is obvious that the people at Wisner Baum believe in what they do. And that you all really care about your clients.

- The B. Family

"They Worked Very Hard and Kept in Contact, Which Is Very Important to Me"

I appreciate that you care about how I feel and that you take time to use your talents to ensure your every contact with me is warmly professional.

- A.D.B.

"Your Expertise in This Field Gave Me the Utmost Trust and Confidence"

I wanted a fair settlement within an appropriate time frame, and without any public scrutiny. With your hard work and dedication, we were able to achieve those goals.

- T.O.